If you are an athlete, you know that detail of what you wear can have a direct impact on your performance.
Whether you are new to sports or just looking for a way to increase your performance, you might be wondering how to wear grip socks. 
Grip socks are a great way to ensure that your feet are steady and have a grip in your boots to prevent slipperiness, and provide that extra support and reduce foot movement within the shoe. This article explains how to wear grip socks to optimize their benefits for your athletic performance. 
How to Wear Grip Socks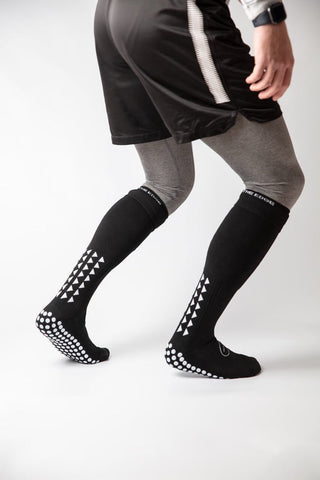 Wearing normal socks while playing a strenuous sport like football can be challenging, as sweat tends to make the socks slippery in your boot and this can impact your balance and performance. This can even lead to strain on the foot and leg muscles in some cases, or risk of injury if you slip during a game. 
Grip football socks provide a solution to this problem, and have quickly become a staple in the dressing room of any athlete. How you choose to wear your grip socks will depend on your team's needs. If you do individual sports, or sports as a hobby, then you can just wear them alone. 
If you are part of a team that has specific colors, which carry through to the sock design, then you may need to cut your team socks to wear them together with the grip socks. 
With Team Socks
Cut Your Team Socks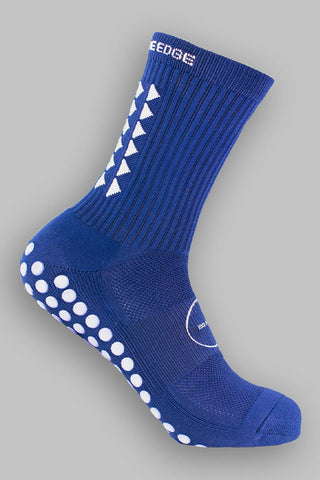 If your team has socks in a specific color as part of the uniform, you will need to do a bit of DIY to wear them with grip socks. 
Using a pair of sharp scissors, cut the foot section off of your team socks. This will be done along the ankle line so that everything above that remains. 
You can recycle the foot section so that the material does not go to waste. Put the remaining top sections aside. 
Put on Grip Socks 
Next, you will grab your grip socks. 
For quality grip socks, look no further than GainTheEdge. Our Grip Socks 2.0 are popular with athletes. They are known for optimizing speed on the field and are made with the best fabric for socks.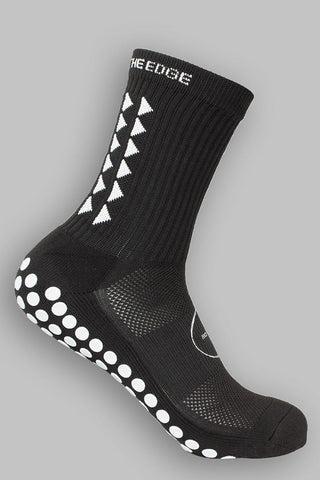 Put the grip socks on, ensuring that they fit well on the foot and that the grips at the bottom are positioned to cover the entire sole of your foot. 
Put on Team Socks
The grip socks are generally not very high up on the leg, as they are a very similar length to crew socks, so you can then slip the top sections of the team socks that you saved in the previous step over the grip socks, and position them towards the top. 
It should slightly overlap with the grip socks so that there is no exposed skin. For a seamless look, opt for grip socks that match the color of your team socks, such as red gripper socks.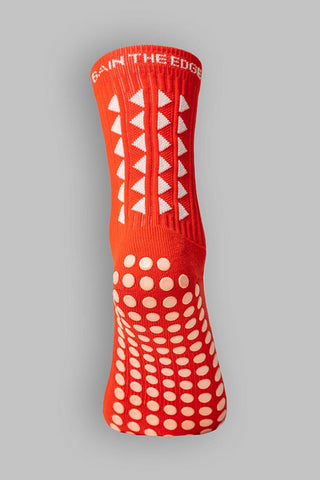 No Team Socks
Put on Grip Socks
If you do not have team colors that you have to follow, then you do not have to do the DIY cutting method. Instead, you will just put on the grip socks as normal.
Again, ensure that the grips on the bottom are positioned to cover the soles of your feet. If the socks are twisted and positioned incorrectly, then you will not derive the benefits of the grips. 
Put on Sock Sleeves
As the grip socks are not very high on the leg (although higher than the length of ankle socks) you will need added coverage on the upper half of your shin. This is especially important if you wear shin guards, as this will keep them in place.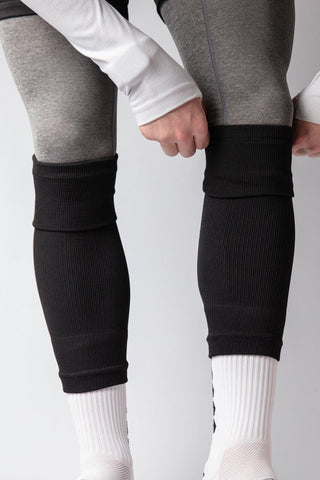 Gain The Edge Sock Sleeves are perfect for this function. They easily slip on over the grip socks and keep your shin guard supported, as well as provide cover for your lower legs. There is a range of colors to choose from so you can match these to your socks, or go for a unique look with a contrasting color, such as pink grip socks.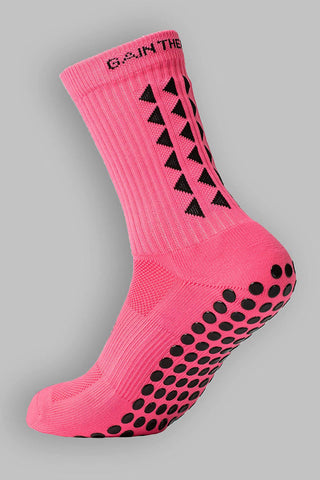 Conclusion
Grip socks have become a non-negotiable for any professional or amateur athlete, as it provides the utmost support for your feet by preventing slippage and movement of your feet in your shoes. 
They also help your technique and control by stopping the feet from moving or sliding in your boots. Players wearing grip socks also have a reduced risk of injuries and blisters, which results in a more comfortable experience. 
These work well for any sport, not just football, as stability is a core goal for any athletic activity. Invest in a few quality pairs to elevate your performance on the sports field, or buy these socks for gifts for a passionate athlete in your life.
Did our blog meet your needs? You might also find our other guides helpful: