With so many types of compression socks, finding the right pair for your walks can be overwhelming. Which type is best for your needs? What should you be on the lookout for when purchasing a pair? 
We'll answer all that and more in this guide to walking compression socks. We'll recommend our favourite compression socks, provide a comprehensive buyer's guide, and cover some common benefits of wearing compression gear. 
What this article covers:
Best Walking Compression Socks
Let's take a look at our favourite walking compression socks and their benefits. 
Compression Sock V1
Compression sock V1 is our flagship compression sock and is much loved for its great price and awesome benefits. 
For compression sock needs, the V1 works as a great all-rounder. It provides impressive compression banding, and muscle and tendon support. The banding also creates a little arch insert, making it a great option if you have flat feet.
But the benefits don't stop there. Our V1 socks are adjustable. So, whether you need summer hiking socks or winter warmers, our compression socks will do. Just adjust the band to the length you like without dealing with yards of extra sock fabric.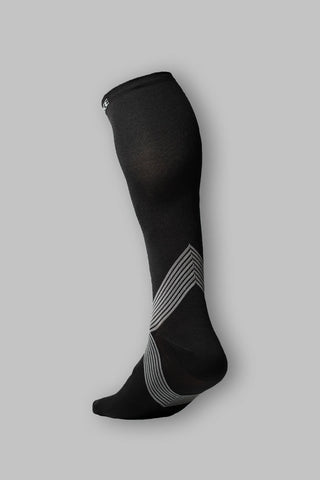 The minimal fabric and snug design also makes them great anti-blister walking socks. The seams are almost invisible and the perfect fit minimizes fabric folds and friction. It is the perfect compression sock for long-distance walks. 
The snug design also guarantees a hassle-free walk. With our walking compression socks, you don't have to deal with sliding socks that need constant readjustment. You can also combine them with grip socks, like our white soccer grip socks, for added stability.
Finally, V1 also looks good. Many people, especially young athletes, struggle to find compression socks that get the job done and look good. Most people have to compromise between functionality and style. 
But the V1 sports our signature athletic design. No matter your age, the minimal design will fit your style and your gear. 
Why They're Great 
Signature anti-blister technology

An adjustable length that's great for winter and summer 

Snug fit that requires minimal adjustments

A sporty design that doesn't compromise its functionality

Affordable price
Who They're Right for
People who are recovering from an injury

People who need extra support

People who want to prevent or recover from muscle fatigue

People who need circulatory support
Compression Grip V1
Compression grip V1 is very similar to the above compression sock. In fact, it has all the same benefits. It features our anti-blister technology, seamless interior, adjustable height, and snug fit. It even features our sporty design.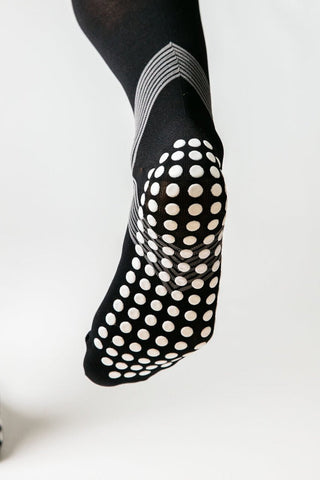 But there is one big difference: compression grip V1 has grip. 
Grippers are rubber attachments on the sole of our socks. They're a simple addition to sports socks but they make a big difference in performance by providing exceptional stability. 
We know every walker and athlete has struggled with unstable footing. The most common issue people face is socks that slip and slide inside their footwear. This can cause everything from mild irritation to severe injuries. 
Being on unsteady footing is bad for our performance (it destroys confidence), and it's bad for our body alignment. 
But, these rubber grips adhere the sock to the shoe sole, ensuring your feet don't slide around. They increase stability, confidence, and performance. They also align the feet, knees, and back, eliminating discomfort from incorrect posture. 
Now, imagine the power you'll unleash when you combine all the benefits of compression socks with the benefits of having complete confidence in your gear.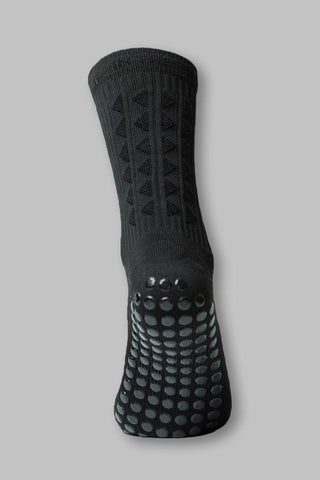 Why It's Great 
Rubber grippers for extra stability

Full body alignment technology

Signature anti-blister technology

Adjustable length great for winter and summer 

Snug fit that requires minimal adjustments

A sporty design that doesn't compromise its functionality

Affordable price
Who They're Right for
People who need extra gear grip

People who are recovering from an injury or struggle with body alignment

People who need extra support

People who want to prevent or recover from muscle fatigue. 

People who need circulatory support
Walking Compression Socks: Buyer's Guide 
Before you purchase your compression socks, use this buyer's guide to ensure you make the best purchasing decision. 
Choose The Right Compression Grip
First, choose the right compression grip. There are different levels of compression grip, from very mild to medical grade. We have a full guide to determine what compression level you might need and it's worth browsing through before buying a pair.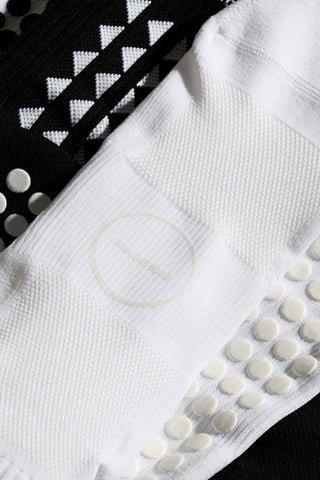 If you have a severe injury or require intense circulatory assistance, it would be better to visit a doctor for help. But if you're an athlete or walker who is looking for impressive support without an intense price tag, a very mild to medium compression sock will do the trick.
Ensure They Have A Comfortable But Snug Fit
Because most compression socks are made from sturdier materials, they can cause quite intense blisters. A sock that is too small can also reverse all the benefits you gain from wearing compression socks and cut-off circulation. 
When you buy compression socks, make sure the socks are snug without being tight. Like anti-blister hiking socks, you want them to provide a good amount of pressure without causing pain. 
Choose you're usual sock size and try the compression socks on if you can. If not, browse reviews to check if the socks are true to size. 
If the cuffs–the part of the sock that holds the leg up–are too tight, go for a bigger size. If there are prominent seams inside the sock, look for a compression sock with anti-blister technology like the ones we mentioned above.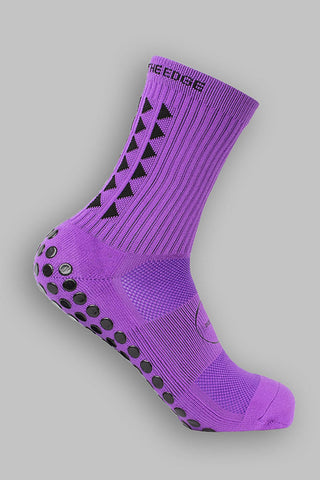 Benefits of Walking Compression Socks
Now that you know what compression socks to buy, let's cover some of the amazing benefits of wearing them on your walks. 
Better Blood Circulation
Compression socks increase pressure on the veins, which improves blood circulation. This is extremely helpful if you're injured or dealing with long stretches of sitting. In both cases, the increased blood flow promotes healing and prevents fluid retention in the legs. 
Less Muscle Fatigue
Whether you're an athlete, a long-distance walker, or a pregnant woman, you'll likely deal with muscle fatigue. This is when, after strenuous activity, the legs feel heavy. Sometimes they even swell. 
It's an uncomfortable feeling and it can cause conditions like spider veins. But with compression socks, you can treat or even completely prevent these issues. The excess pressure reduces leakage and encourages the re-absorption of fluids. 
With compression socks, your body can quickly deal with these uncomfortable issues.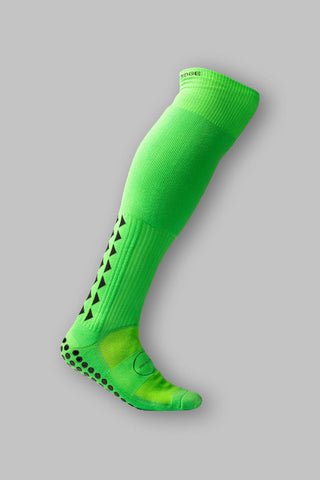 Complete Support
The constant low thrum of pressure, increased circulation, and reabsorption provide the legs with complete support. 
Increase blood circulation helps our muscles function better. The heat and pressure also help with our elasticity, preventing horrible injuries. And pressure on our foot arch and ankle acts as a small support system. It's especially great if you struggle with flat feet or are prone to twisting your ankles. 
Improved Performance
Like our dark blue grip socks, compression socks will tremendously improve your overall performance. From walking around the block to running a long-distance marathon, compression socks provide people with the support, healing, and confidence they need to perform at their best. 
Just as walking socks for women provide dedicated support, so do compression socks help us reach our full potential.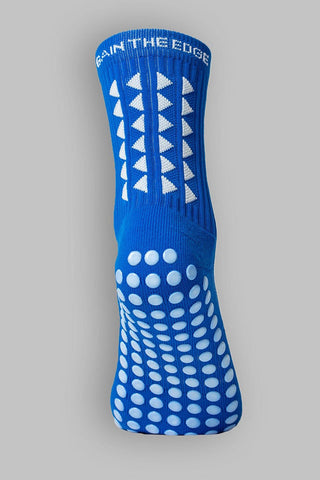 Conclusion
Compression socks are a game changer for everyone from neighbourhood walkers to professional athletes. If finding a pair of compression socks that work for you was difficult, don't worry. This guide will help.  
Our recommendations are guaranteed to help you with your walking and any other activities you enjoy. For more socks guaranteed to improve your life and performance, browse our performance-enhancing sports grip socks catalogue. 
Walking Compression Socks (FAQs)
Should I wear compression socks for walking?
Yes, especially if you frequently walk long distances. There are no downsides to properly fitted compression socks, but there are a lot of benefits. If you want to increase your performance or to hurry along the healing period after a long walk, compression socks are a great way to do it.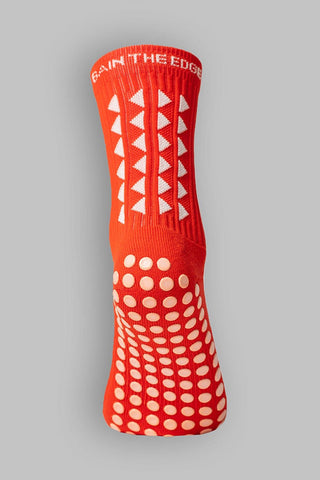 How many hours can you wear compression socks?
Unless you are wearing medical-grade compression socks, you can wear compression socks for hours on end. Some people even wear them to bed and sleep with them on. 
But, your skin does need time to breathe and we recommend that you only wear compression socks during the day. You should only wear compression socks for long stretches if your doctor has told you to. Otherwise, wear them when you need the benefits. 
When should you not wear compression socks?
Don't wear compression socks if you struggle with heart conditions, severe circulatory issues, or nerve damage. 
While you still might be able to wear compression socks with these conditions, we recommended visiting your doctor and talking to them about your condition. They know your condition better than anyone and will be able to determine whether compression socks are the right choice for you. 
Did our blog meet your needs? You might also find our other guides helpful: