If you are a runner, you know how important it is to have running socks that are comfortable and supportive. Having good running socks is almost as important as having good running shoes. 
Running socks influence your running style and performance more than you realize, and having the correct ones can be a total game changer. 
But, there are so many different types, styles, designs, and makes of running socks out there today that it can be difficult for you to know where to start and to figure out which running socks are right for you. 
So, to help you out with this, we have put together a guide of the best running socks around so that you can find a running sock that meets all of your needs.
What this article covers:
Best Socks for Running 
Mid-Calf Length Grip Socks
Our mid-calf length grip socks are the best running socks for trail runners, or anyone wanting to do longer runs such as marathons.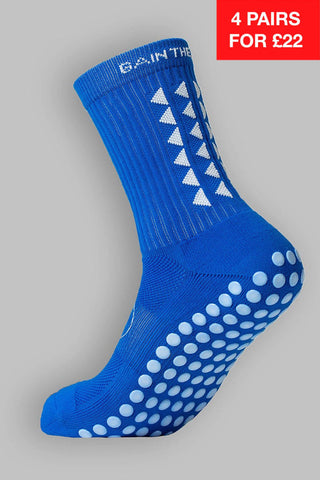 The extra height of the sock is great for trail runners because it prevents their ankles from getting too dirty and muddy. It also protects your ankles from branches and thorns and ensures that they don't get too scratched or hurt. 
Additionally, the extra height is great for long-distance or marathon runners because it means that the sock will not ride down and come off of your foot. This can happen sometimes with shorter socks and can be very off-putting while you are running. 
The extra grip provided by these socks ensures that your foot doesn't slide up and down in your shoe. This is a huge advantage for trail runners because of the unstable and uneven surfaces that they run on. 
Lastly, these socks are designed to enhance your control and comfort and allow you to run more comfortably and efficiently. 
You can get yourself 4 mid-calf length grip socks for £22.00, which is a steal, in our opinion.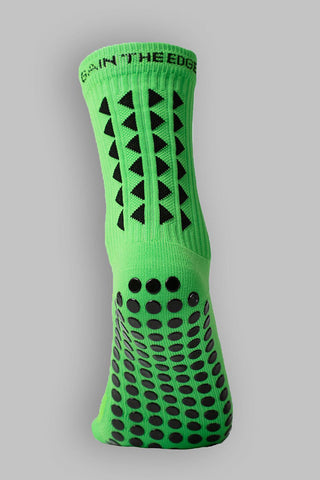 Why It's Great 
The extra length protects your ankles from dirt and scratches

More grip helps enhance stability and control 

Great for injury prevention since it minimizes slipping 

Extremely comfortable 
Who It's Right For
Trail runners who want to avoid dirt or trees scratching their ankles 

Marathon or long-distance runners

Runners who want more grip and control when they are running
Ankle Length Grip Socks
Our ankle-length grip socks are some of the best running socks for women and men. 
They have a similar design and properties to our mid-calf length ankle socks, but they are much shorter and only go up to your ankles. 
A lot of runners prefer having socks that only go up to your ankles, for numerous reasons.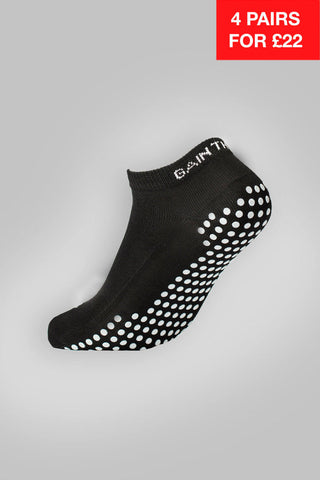 Firstly, ankle-length socks are a lot cooler. Full-length, or even mid-calf-length socks, can leave you feeling extremely hot and sweaty in the summer, which is a feeling many runners try and avoid. Because, in the long run, it can affect your concentration and focus while running. 
A lot of runners, particularly women, also prefer the sleek look that an ankle sock offers. 
There may be some concerns that our ankle-length socks will slip off of your heel and into your shoe while you are running. 
But, the grip that our ankle-length grip socks have ensures that your foot will not slide up and down, or rub against your shoe. This will hugely minimize the chances of your sock sliding off of your heel, making these socks more than adequate for shorter runs, and even half marathons. 
And while they will likely be fine for longer marathons too, we would recommend testing them beforehand, and opting for our mid-calf length socks if you are having issues. 
Since the added grip of these socks prevents excessive foot movement, they are great for preventing blisters, too. Blisters are a runner's nightmare, so the fact that they limit this is a win on its own.
Additionally, our ankle-length grip socks are thick enough that they add extra padding and comfort to your foot whilst running, but not too thick that they leave your foot feeling hot and compressed. 
These socks are designed to give you extra stability and control when you run, which can lead to you increasing your running performance and pace.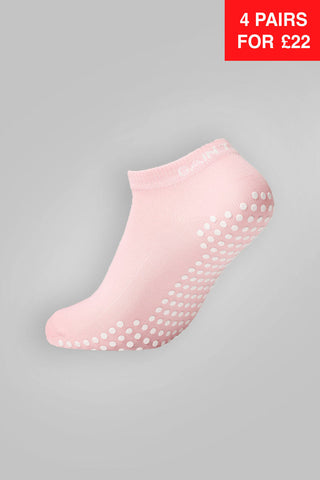 These socks are also going for £22.00 for four pairs, making them very worth the purchase. 
Why It's Great 
The shorter height ensures you remain cool and refreshed during your run

The design and height make for a sleek-looking sock 

The added grip provides stability and control 

They can boost your running performance

They will ensure that you have a comfortable, pain-free, and enjoyable run
Who It's Right For
Runners who enjoy running in the summer and want to keep cool 

Runners who run shorter distances

Runners who want to boost their performance and pace 
Compression Grip Socks
Before we get into our review, please note that we also sell compression socks without the extra grip. But, we find that the added grip is much more beneficial for runners, especially those who run extreme distances, which is why we recommend these rather than just the normal compression socks. 
Our grip compression socks are great for marathon runners who run extreme distances, as well as runners who frequently run in very cold temperatures.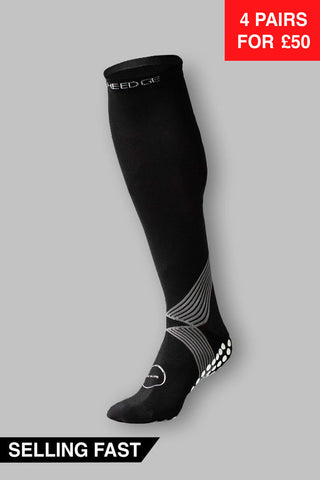 When you run for extended periods of time, this can cause swelling in your lower legs due to fluid and blood pooling. This can become painful and annoying, and definitely something that runners want to avoid when covering long distances. 
Our compression grip socks are designed to compress your blood vessels and maintain blood flow throughout your lower legs. This ensures that fluid and blood pooling do not occur, which helps to eliminate discomfort while running. 
These compression socks are also great to boost recovery post-run and will decrease the feeling of delayed onset of muscle soreness.
The length of the compression socks makes them great for runners who live in cold countries, as they act as a leg warmer, too. 
While these compression socks can be used to run any distance, we wouldn't recommend them unless you are running very far, or very frequently and are struggling with recovery after your run.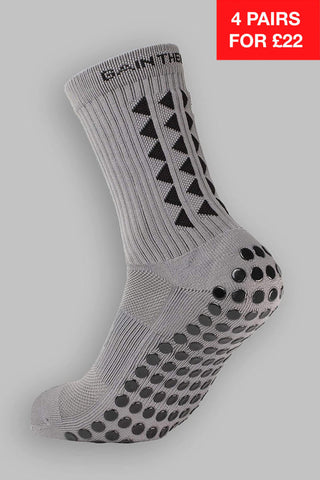 Since these socks are long and tight, they can get uncomfortable. And, if you are running shorter distances, it is unlikely that swelling will be an issue. 
Our compression socks are a step above the rest since they come with added grip, too. The extra grip makes them ideal for running as it helps to increase stability, prevent injuries and blisters, and boost overall performance.
Why It's Great 
Prevent blood pooling and swelling 

Help increase recovery after long runs 

Keep your legs warm in cold temperatures

Extra grip that helps to add stability and increase performance
Who It's Right For
Long distance runners

Runners who struggle with swelling while running

Runners whose muscles struggle to recover after a run 

People who run in very cold climates
Best Running Socks: Buyer's Guide
Materials 
When choosing running socks, the material of the sock should be one of the first things that you look at. 
Ideally for running, you want to choose materials that are natural fibers, such as merino wool, or synthetic materials like nylon or polyester. 
These materials are breathable, moisture-wicking, quick-drying, and durable.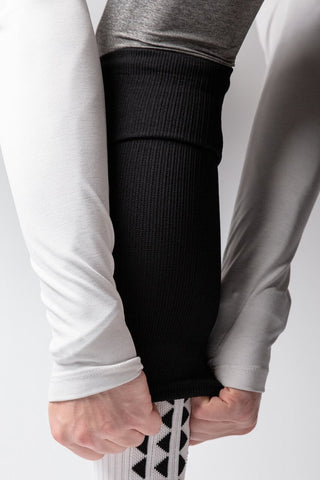 Materials that you want to stay away from are 100% cotton. Cotton absorbs moisture, so if you are sweating heavily, or it is raining, cotton running socks will hold in this moisture instead of wicking it away. 
This can cause blisters and chaffing, making for one very uncomfortable run.
Cotton running socks also aren't very durable, so if you run frequently, they definitely aren't ideal for you.
Length Of Socks
The length of your running socks is something else that needs to be considered before purchasing them. 
The most common sock lengths are ankle length, mid-calf length, and full length. Each of these lengths serves a purpose, so it is important to assess what type of running you are going to be using these socks for. 
For example, if you are a trail runner, mid-calf length socks, such as our white football grip socks, would be ideal for you.
This is because these socks will protect your ankles from dirt, and from being scratched by any bushes or rocks. If you wear ankle socks on the trails, you could end up with a lot of bumps and bruises from your run, which is something that can be avoided with the correct length of socks.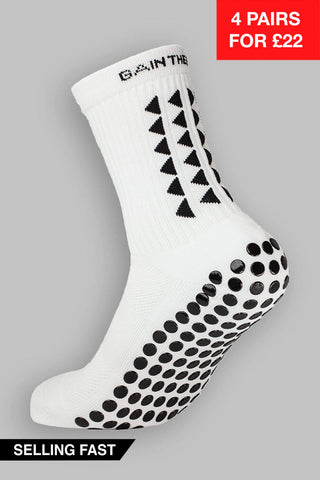 If you are someone who does a lot of running in very hot and humid conditions then ankle socks would be the way to go. Mid-calf or full-length socks may cause you to become very hot and sweaty, and can end up making your run quite unpleasant. 
Lastly, if you are someone who runs in very cold weather, or is a runner who sweats profusely, then full-length socks may be the ones for you. 
Keep in mind that you can use any length that you feel comfortable in. But it does help to know what the different lengths are used for and to use them accordingly.
Cushioning
This is mostly a personal choice, but some runners prefer running socks that are more cushioned, while others don't. Cushioning can give extra support and comfort, so if this is something that you prefer running with, then take cushioning into account when you buy your socks. 
One thing to keep in mind, though, is that if you have socks with more cushioning, they are often thicker too, which can make them tighter. 
So, make sure that you take your running shoes with you when you buy your socks so that you can make sure that they fit properly.
Fit
This leads us to the fit of the sock. Not only must the sock allow your foot to fit in the shoe and not be too thick and tight, but it must also fit properly on your foot. 
You don't want socks that are too loose, because that can cause them to fall off of your feet, or it can cause chaffing and blisters. If this happens, it can have a very negative effect on your running, and make your performance deteriorate. 
But, on the other hand, you also don't want running socks that are too tight. Because if this is the case, they can restrict your blood flow and become very uncomfortable and sore while you are running, which will also have a negative impact on your running performance. 
So, it is important to find a happy medium between the two. Look for running socks that are snug, but not too tight.  
Compression 
Some runners swear by running compression socks because of the many benefits that they come with. But, they can be very tight around your calves, so some people find them really uncomfortable and don't enjoy the feeling of running with them on.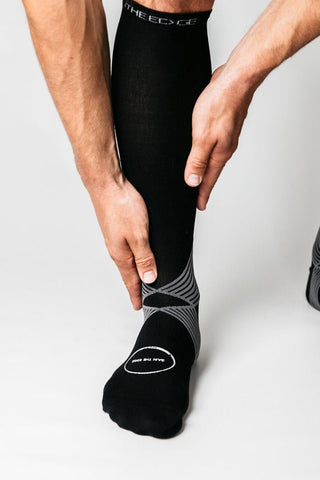 Additionally, a lot of the benefits that compression socks offer are more for those runners who run very long distances. So, if you are only running about 5 kilometers or so, compression socks may not work that well for you and can end up just being uncomfortable. 
Grip Or No Grip  
Another thing that you should consider when you are buying running socks is whether they are grip socks or not. In our opinion, we would definitely recommend investing in grip socks such as our sport grip socks because they have an array of benefits for running. 
For example, they give runners more control and stability, help prevent injury and blisters, minimize falling, and can boost overall running performance. 
So, in our opinion, grip socks are extremely beneficial to runners who want to better their running times and enhance their performance. 
Running grip socks are a bit more pricey, but they are definitely worth the investment. They are usually very good quality too, so will last longer than cheaper running socks.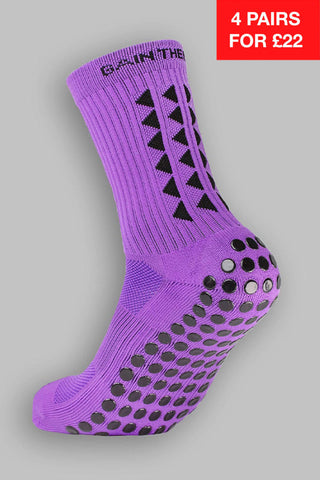 Price
The price of the running socks you want to buy should also be taken into account. While price isn't always an indicator of quality, normally the really good quality running socks are a bit more expensive. 
But, a decent pair of running socks is definitely worth the investment, as they can make a huge difference in your comfort, as well as your running performance. 
So, if you are quite an experienced runner, we would definitely recommend biting the bullet and investing in a high-quality pair of running socks. 
But, if you are still a beginner trying to decide if you want to stick with running, then we would recommend trying out a few mid-range socks to see how the running goes, and invest in a better pair as you become more serious.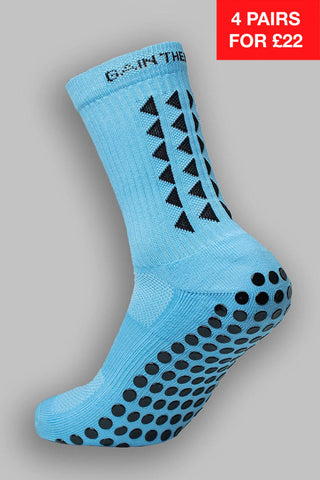 Conclusion 
The bottom line is that the type of running socks you like is a personal preference. While we definitely recommend that you get a good pair of running socks, don't just go for a certain one because that's the latest trend.
Take the factors that we have mentioned into account and use them to match your individual preferences.
In the process, don't be afraid to try a variety of different running socks, and see what works the best for you, your running style, and your running shoes. By doing so, you'll be able to find the perfect pair of running socks for you.
Running socks do make a difference, and they have more of an influence on your running performance than you realize. So it is definitely worth it to spend a bit more time, and money if necessary, to invest in the best running socks for yourself. 
Did our blog meet your needs? You might also find our other guides helpful: