When summer comes along and the days get longer and warmer, you may be tempted to forego the socks in a bid to keep cool. But that can leave you vulnerable to chafing, blisters, and sweaty shoes. The solution is to wear socks designed to keep you cool in the heat while protecting your feet. 
Whether you need the best socks for hot weather hikes or the top socks for your other summer sports, you'll be looking for certain characteristics that protect your feet and resist heat. 
To help you select the best summer socks for your needs, we've compiled this review of the top summer sports socks. We also examined the features to look for in sports socks for hot weather. 
What this article covers:
Best Socks for Summer
Are you looking for top-rated men's socks for summer weather? These are our top socks for playing sports in the summer heat. 
Ankle Grip Socks (Best For All Sports) 
Many sportspeople and gym enthusiasts love the look and feel of traditional white or black ankle socks. But what are the best ankle socks for men for summer? Both men and women prefer our ankle grip socks for golf, the gym, and even yoga and pilates.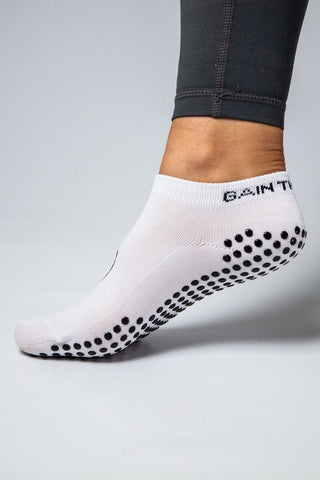 The reason is how snugly they fit without compromising on breathability or comfort. And with their two-tone contrasting grips (white on black, and black on white, they look as good as they feel). They prevent sweaty shoes, chafing, and blisters without your feet overheating. 
The problem with most ankle socks is that they tend to slip past the ankle into your sports shoes. But thanks to the fit of these classic low-rise ankle sport socks, that's not a problem. They're guaranteed to stay in place and also prevent heel slippage inside your shoes.
Why They're Great
They have fashionable low-rise styling

They come in classic black and white colour options

They have non-slip grips for enhanced stability
Who They're Right For
People who prefer the cool comfort of an ankle sport sock
Mid-Calf Grip Socks ( Best For Retro Cool)
What says retro-style cool more than mid-calf grippy sports socks? They're suitable for a variety of summer sports and beloved by tennis players everywhere. And these mid-calf-length grip socks aren't just suitable for men; they're also the best women's socks in the UK.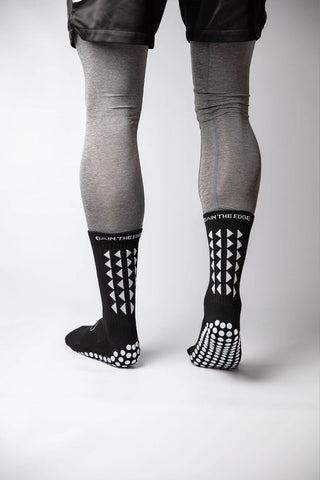 Despite their classic looks, they're a big improvement on the mid-calf socks of yesteryear. Designed for improved support and stability, they offer coverage of the lower leg but still help you beat the heat. Their anti-slip technology will give you the confidence you need to succeed, no matter your sport.
Why They're Great
They have a retro mid-calf length style

They offer more ankle coverage and support

They have a unisex design

They're available in a wide range of colours

They have non-slip grips for greater security in your sports shoes
Who They're Right For
Anyone who prefers lower leg coverage

Everyone who needs the security of ankle support
Toeless Ankle Support Socks (Best For Support)
These open-toe ankle support socks are popular with athletes who participate in track and field, gymnastics, and mixed martial arts. With enhanced arch, heel, and ankle support, superior stretch, and comfort, your toes remain cool and free.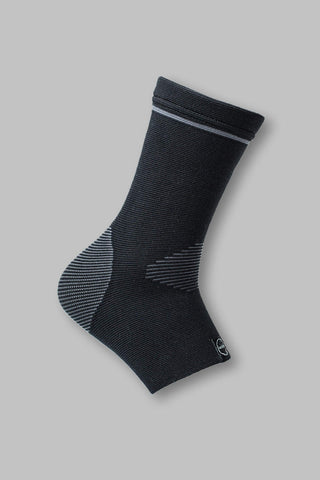 These ankle support socks can help athletes who are recovering from ankle injuries or just need the stability of a sport sock without their toes being restricted.
Why They're Great
They provide support where you need it

They provide a stretchy but snug fit

They're durable 

They're breathable and lightweight
Who They're Right For
Anyone who needs the extra ankle support

Athletes recovering from ankle injuries

 
How to Choose the Best Socks for Hot Weather
Whether you're looking for the best men's knee-high socks, summer sports socks, or even compression socks with ankle support, it all comes down to the materials. These are the features to look out for when choosing the best socks for hot weather.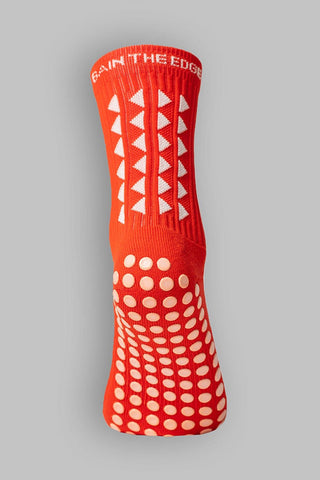 Light Colour 
Years of expertise have taught us a thing or two about the ideal sports socks for different weather conditions. Your sports gear's colours can play a role in keeping you cool and comfortable in hot weather. And this is just as important for the summer sports socks that you wear. 
The colour white reflects the sun's heat and keeps you cool. That's why most sportspeople choose our white soccer grip socks for summer play. Of course, they look good too. Classic white sports socks will never go out of style.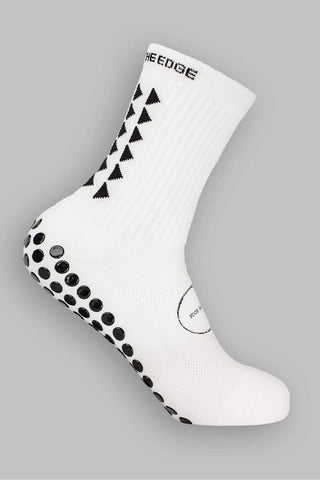 Lightweight Fabric
Thick socks are a great choice for winter weather and sports like skiing or ice hockey because they insulate your feet and keep them warm. But when the summer days roll around and you're participating in your favourite summer sports, you need lightweight and breathable fabrics to keep cool. 
As experts in the field of sports gear, we understand the importance of the right fabrics. Natural materials like cotton are the most breathable, and polycotton blends are also lightweight and comfortable. That's why it's the material of choice in all our best-selling grippy sports socks.
Moisture-Wicking 
In the summer, sweat becomes more of an issue. Closed up in your sports shoes, your feet will sweat even more than usual. Moisture-wicking properties draw moisture from sweat away from the skin. This helps prevent unpleasant fungal infections like athlete's foot, which thrive in warm, moist environments. 
Our research results indicate that a polycotton blend (like you'll find in our grippy summer sports socks) is the best material for this issue. Unlike many 100% cotton socks, they don't retain moisture and become damp.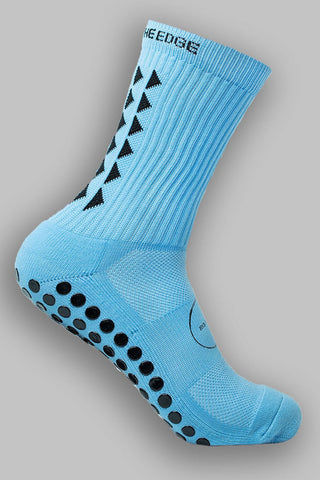 Conclusion
Our grippy sports socks are ideal for all weather conditions and various sports disciplines. That's what makes them a leading sports sock brand in the UK, loved and trusted by countless athletes of all ages.
Get your pair of the best summer socks with grips today. Gain The Edge over your competitors, no matter your sport or whatever the weather.
Did our blog meet your needs? You might also find our other guides helpful: