Tennis is a very high-paced sport where lots of control and rapid change of direction are required. 
If you're a tennis player, you will know that choosing the right tennis shoe is crucial to your game. But, do you ever put any thought into the tennis socks that you choose?
This is an aspect that many tennis players overlook. But, it's something that we highly recommend putting some time and energy into so that you can choose the best tennis socks.
Having a decent pair of grip socks for your tennis matches can be an absolute game-changer. High-quality tennis socks are one of the best investments that you can make if you want to up your game and outdo your competitors. 
In this article, we will be discussing what the best tennis socks are for you, as well as the benefits of them and what to look for when you are buying a pair. 
What this article covers:
Best Socks for Tennis
Midcalf-Length Grip Socks 
Our midcalf-length grip socks are one of the best, and most popular tennis socks, especially among men. But, we also have a lovely pair of pink grip socks for the women to try out and see how they feel.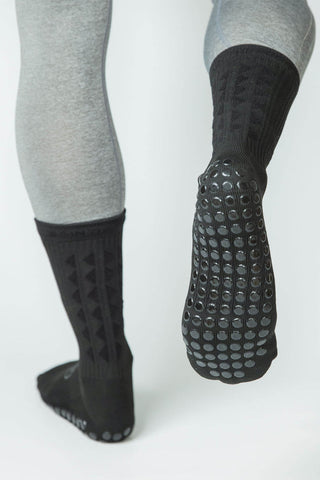 The extra length of these tennis socks provides a bit more stability and security to your ankles, and they ensure that your socks won't slip off of your feet. 
These socks are comfortable and not too tight around your ankles. The grips on the under soles help with shock absorption and make fast changes of direction easy and controlled, something that is crucial for tennis players. 
The grip on the socks also stops your foot from sliding inside of your shoe, which prevents blisters and injuries. Additionally, the added grip helps to improve your explosive power and makes you more agile when playing. 
Even though these socks have a bit of extra length, they are still breathable, moisture-wicking, and cool. This also makes them the best golf socks, and the best sports socks.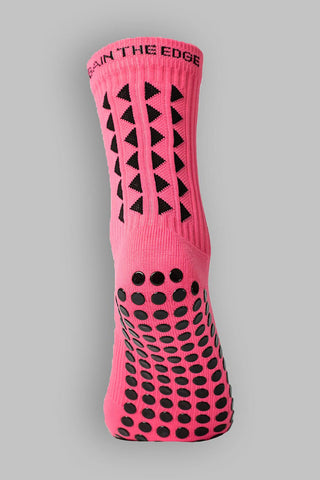 Lastly, they are very affordable, too. You can secure four of these high-quality socks for £22.00
Why They're Great 
Improves explosive power 

Reduces the chance of injuries 

Won't fall off of your feet easily

Extremely comfortable

Prevent sliding
Who They're Right For
Tennis players at any levels

Male and female tennis players, although they are more popular with men 

People looking to up their tennis game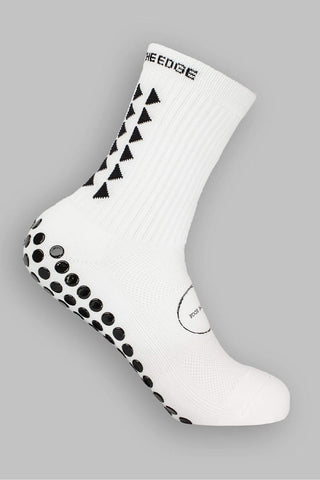 Ankle Length Grip Socks 
Our ankle-length grip socks are a great alternative to our midcalf length sport grip socks if you don't like the extra length around your ankles (and not to mention the sock tan that comes with it). 
Our ankle-length grip socks have all the benefits of our midcalf-length grip socks, they just aren't as tall. A lot of people find it annoying to wear long socks, and it can become really hot as well. 
This length of tennis socks is definitely more popular amongst female tennis players, and it makes them extremely versatile, too. Because of their length, they can double up as yoga grip socks or as the best gymnastic grip socks.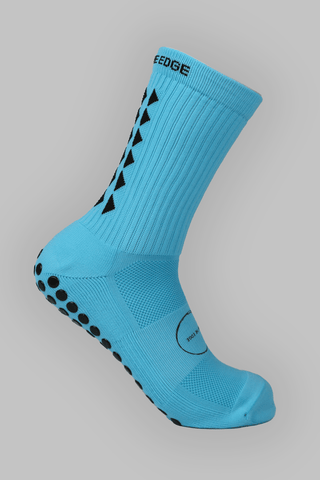 Similarly to the midcalf-length grip socks, these socks also provide more stability and control over your movements. They help you to move rapidly and erratically without having to worry about slipping or injuring yourself. 
Their anti-slip design ensures that the chance of you getting injured is very minimal and that it is almost impossible for you to get blisters. 
The length of these socks ensures that you remain cool and do not sweat excessively. This is added to with their moisture-wicking technology that ensures that sweat or moisture does not get in the way of your playing. 
Even though these socks are shorter, they are secure and sturdy enough that they will not slip off of your feet easily. 
In addition to being performance-boosting and comfortable, these socks also come at a very reasonable price. You can purchase four pairs of these socks for only £22.00.
Why They're Great 
Ensure that you remain cool 

Gives you more power and speed 

Make you feel more in control of your movements

Prevents injuries and blisters from occurring 
Who They're Right For
Both men and women, but more popular amongst women 

Tennis players in warm climates

Tennis players looking to improve their performance

Tennis players who want to feel like they have more control of their movements 
Compression Grip Socks 
This may come as quite a surprise to some people, but compression socks aren't just some of the best triathlon socks. Our compression grip socks make for great tennis socks, too.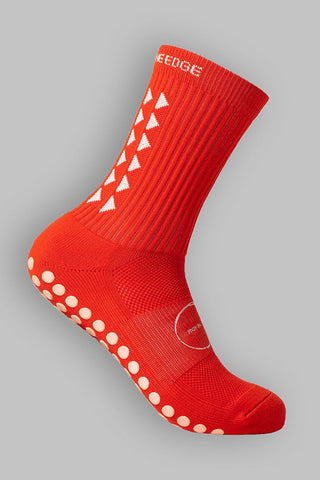 This is particularly true if you find yourself competing in lengthy tennis tournaments. It is not necessarily the compression socks that boost your performance immediately, but more of the effects that they give, which is why we say they are more beneficial for tournaments and not once-off matches. 
Tennis is a gruelling game that takes a lot out of you. In a match, your feet and lower legs take a lot of strain from hours of being on the move, the rapid changes of directions, and withstanding the pressure of returning a serve. 
All of this leads to muscle fatigue and soreness and can take a toll on your legs. So, if you are playing in a tournament, this is not ideal. 
Our compression grip socks help to increase your blood circulation and combat muscle fatigue and soreness. They help your muscles recover quicker, which means you will be ready for your next match, or back to training, faster than you would be without them. 
The fact that they are also combined with grip on their under soles means that you get the benefits that grip socks provide, too. These benefits include improved performance, more speed and agility, fewer injuries and blisters, and more stability and control. 
You can get four pairs of our compression grip socks for a very affordable £50.00.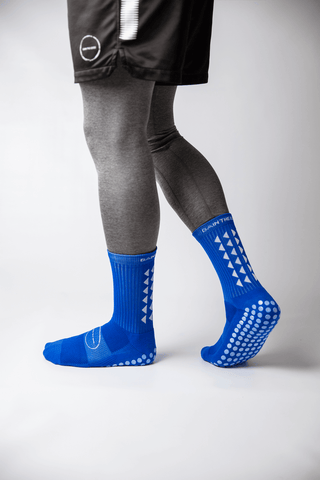 Why They're Great 
Speeds up muscle recovery 

Reduces muscle fatigue and soreness

Gives you more stability and control

Decreases the chance of injuries and blisters occurring 
Who They're Right For
Tennis players playing in long tournaments

Tennis players who suffer from extreme muscle soreness or fatigue 

Tennis players who want a bit more stability and support when playing 
How to Choose the Best Socks for Playing Tennis
Type
The type of tennis sock is the first thing you should look at when choosing a tennis sock that is right for you. 
When we refer to the type, we are mostly referring to the length of the tennis sock. The different types that you get are low cut, ankle length, midcalf length, and full length. 
The type that you get is completely a personal preference. You need to choose a type that is going to suit your needs best, and what you feel more comfortable in. 
With this being said, we would not recommend going for tennis socks that are shorter than ankle length. While these socks may make great Pilates grip socks, the low-cut tennis socks usually don't stay on your foot very well, which can cause them to slip down while you are playing. 
This can easily distract you and throw you off of your game.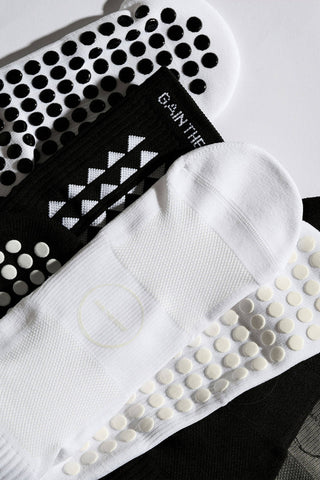 The other lengths are all more than sufficient to choose from, and will all do a great job. The choice that you make should be from a practical perspective, but you do want it to be aesthetically pleasing, too.
Materials 
When choosing a pair of tennis socks, you want the material to be light, breathable, moisture-wicking, comfortable, and stretchy. 
The best way to achieve all of the above parameters in one sock is to go for socks made out of combined materials. 
The combination of materials that would be best is most probably a mix of synthetic fibres, such as polyester, spandex, and cotton. 
Synthetic fibres help to make the socks breathable, moisture-wicking, and durable. Spandex ensures that the socks are stretchy, which makes them a lot more comfortable. And cotton is an extremely comfortable and inexpensive material. 
But, again, the choice of materials largely comes down to personal preference and what you find to be the most comfortable.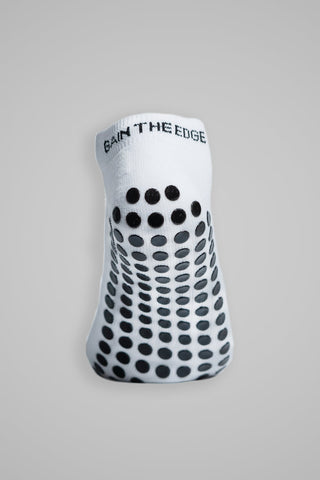 The only material that we would suggest you stay away from is socks made out of 100% cotton. While cotton is comfortable and affordable, it absorbs moisture instead of wicking it wavy. This can be very uncomfortable, as well as a slipping hazard. 
Cotton also doesn't hold its shape very well, so pure cotton is something that you want to avoid if you can. 
The most ideal sock material combination for tennis, in our opinion, would be socks made up of both cotton and elastic fibres. This will make the socks comfortable, stretchy, resilient, and will ensure that the socks stay up while you are playing tennis. 
In terms of materials used for the grips, usually silicone is the best way to go, as this is durable and comfortable underneath your foot.
Comfort
Just like with the best snowboard socks or the best basketball socks, comfort is one of the most important aspects when choosing tennis socks. 
Tennis matches can last hours on end, so if your socks are not comfortable, it's going to affect your concentration and performance while you are playing. 
Comfort feels different for everyone, so it may take a few rounds of trial and error to discover what is the most comfortable type of socks for you.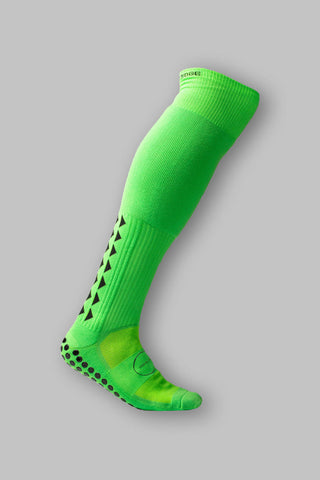 Anti-blister Design
Something also important to consider when purchasing tennis socks is if there is any anti-blister design incorporated into the sock. 
There is nothing worse than playing a long game of tennis, and starting to get blisters halfway through your match or practice session. 
Not only can the blisters throw you off of your game and distract you, but they can also make you physically unable to play, and prevent you from practising or playing in the following few days. 
One of the most common anti-blister designs that we see in a lot of sports socks is the use of grips on the under soles of the socks. 
Having grips on the underneath of the socks ensures that your foot doesn't slide up and down in the shoe and cause friction and chafing. This is very common in tennis with all of the quick movements. 
So, having grips on your tennis socks is very beneficial in preventing you from getting blisters. This is a design that grip socks for rugby and the best CrossFit socks also make use of it for this same reason.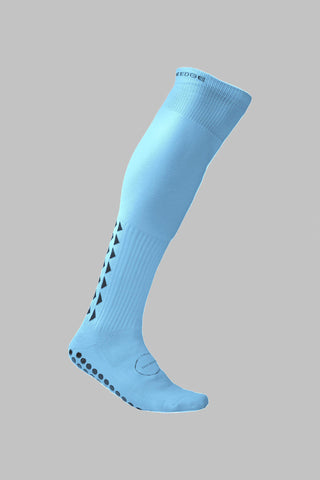 Grip
If there is an option to choose between grip or no grip, always go for grip when it comes to tennis socks. Having grips on your tennis socks will give you extra control and stability, minimizing any falling and injuries. 
The additional grip also helps to improve your explosive power and better your overall tennis performance. 
The grip can really help you gain an edge to your game, and it is always better to choose tennis socks that have additional grip.
Compression 
If you're wondering if you should choose tennis socks with compression or not, this largely comes down to how often you play and how many tournaments you compete in. 
The main purpose of compression socks is to help you increase your blood flow and circulation, as well as boost muscle recovery, and decrease muscle soreness and fatigue. 
If you are someone who plays tennis almost every single day and competes in a lot of tennis tournaments, then it is a good idea to invest in a pair of compression tennis socks.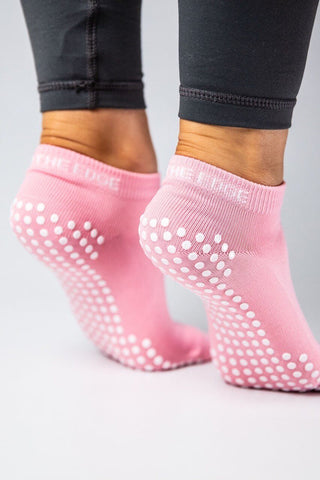 But, if you only play tennis every now and again, or a few times a week, compression tennis socks are not entirely necessary. 
With this being said, though, it may not be a bad idea to invest in a pair of compression tennis socks that you can wear every now and again to help improve your circulation and help with muscle recovery. 
Size
The size of your socks is also important, and shouldn't be "ballparked". If you get socks that are too small, they could cut into your skin, restrict blood flow, and just be quite annoying while you are playing. 
On the other hand, if you get socks that are too loose they could slip off while playing and cause you to lose concentration, be uncomfortable, or even result in you injuring yourself. 
It is important to be very particular with sizing and invest in a pair of tennis socks that fit you perfectly. 
Most websites have a sizing chart that you can look at to ensure that you get the right size. So, even if you have to order your socks online, this won't be an issue.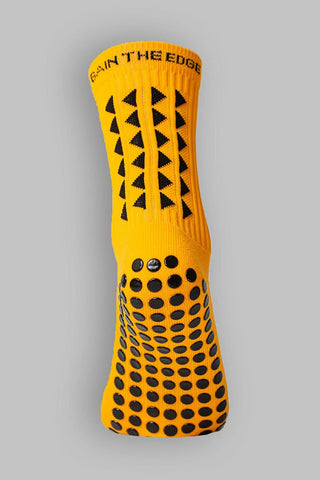 Colour
The colour of tennis socks that you get is completely up to you, and a personal preference of what you think looks best. 
One thing to keep in mind, though, is that if you are playing on a dirty or dusty surface, such as clay, lighter-coloured socks may get quite dirty, and look quite bad after a while. So, if this is the case, you may want to opt for darker-coloured tennis socks. 
Price
When choosing a pair of socks, you want to stay within the budget of what you can afford, because top-of-the-range tennis socks can be super pricey. 
Obviously, you don't want to opt for the cheapest pair possible, as this probably won't be great quality. But, it is also not necessary to spend an arm and a leg on tennis socks if you can't afford them. 
There are very good quality tennis socks available for extremely affordable prices. Don't feel like you have to break the bank in order to get a decent pair of tennis socks.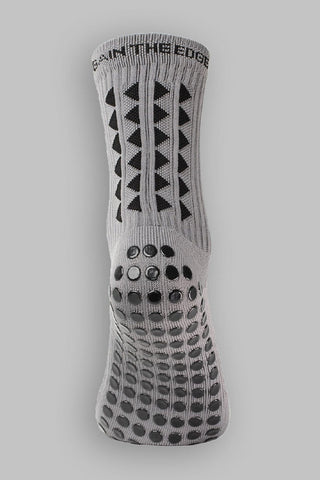 Conclusion
As you can see, the type of tennis sock that you get is more important than you may have previously thought. 
Hopefully, with this guide, you will be able to choose the perfect tennis sock for you. Remember, above all, you want a sock that you are comfortable with and that sits well on you. 
Tennis is a long and gruelling game, so the best thing that you can do when choosing a sock is to find one that is comfortable and effective.
Did our blog meet your needs? You might also find our other guides helpful: