Whether you are a professional basketball player, a beginner, or only play from time to time, having the right equipment to play is crucial. 
This includes having the right socks. Socks are often overlooked, and people tend to just buy the cheapest that is available. But, having good quality socks that are tailored to basketball can do more for your game than you realize. 
With the right type of socks, your speed, agility, and control can improve hugely. They can really take your game to the next level. 
In this article, we are going to talk about the best basketball socks and provide you with a buyer's guide to help you invest in your own. 
What this article covers:
Best Socks for Basketball 
Full-Length Grip Socks
Our full-length grip socks are our top choice when it comes to choosing the best socks for basketball. 
The first reason for this is because of their length. The extra length that these socks provide gives added ankle support and also has a bit more cushioning around your shins and calves.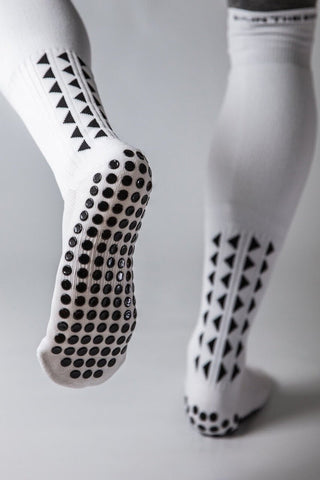 Basketball is a game where falling is not uncommon. The extra ankle support ensures that if you do happen to fall, there is less of a chance that your ankles will get injured. And the extra cushioning around your calves and shins will make the fall more bearable, and prevent you from getting any scrapes or scratches on your legs. 
For this reason, they also make great grip socks for rugby and the best snowboard socks.
The extra length also ensures that the socks don't fall down when you are playing basketball. Since there is a lot of jumping in basketball, that jerking motion can cause your socks to easily fall down. This is not the case with our snug-fitting full-length grip socks. 
Then there is the grip aspect of these socks. As we mentioned earlier, it is very easy to fall when playing basketball. The grips on the under soles of these socks help to prevent that.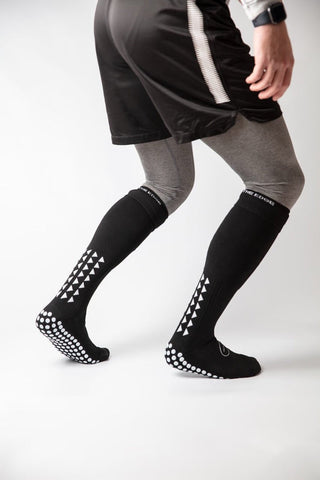 Not only do they prevent your foot from sliding up and down in your shoes, but they give you more control and stability, which lessens your chances of falling and injuring yourself. 
Since basketball is a fast sport that requires quick changes of direction, having grip socks is ideal and almost essential. These full-length grip socks will help improve your performance and up your basketball game. 
These high-quality basketball sport grip socks are super affordable, and you can get yourself four pairs for only £50.00.
Why They're Great 
They create more ankle stability 

They offer some cushioning and protection around your calves and shins

They minimize falling

They improve your basketball performance
Who They're Right For
Basketball players that are prone to falling 

Basketball players looking to have more control over their game 

Beginner or professional basketball players 
Midcalf Length Grip Socks
Our midcalf length grip socks are another great option for basketball players. These socks are slightly shorter than our full-length grip socks, but they still go up above your ankles, which means there is still a sense of ankle support offered by them. 
These socks are cool, moisture-wicking, and will prevent too much sweat from occurring while you play. This, along with the rubber grips, will ensure that the chances of you falling, while playing or practising, are kept to a minimum. 
These socks are comfortable and breathable, and they will increase your speed and agility while playing. These are elements that are crucial to basketball and are things that can take your playing performance to the next level.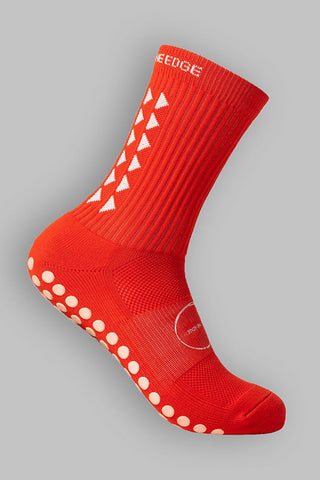 One thing you might be worried about is the sock slipping down your leg while you play since they are not full-length. But, you can rest assured that our midcalf length socks fit extremely well, and there will be no issue with sliding, so long as you get the correct size. 
Our socks also come in pink grip sock variations, so they can be a fun way to add some colour to your outfit. This also makes them very popular training socks for women and great gymnastics grip socks.
These performance-enhancing socks are very reasonable, too. You can get a pack of four pairs of socks for a very good price of £22.00.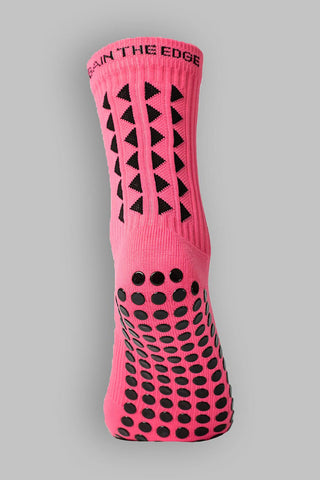 Why They're Great 
They won't slip down while you are playing basketball

They are cool and breathable

These socks help to improve your speed and agility 

They are very comfortable to wear and play in
Who They're Right For
Basketball players who don't like the feeling of full-length socks but still want their ankles to be protected

Basketball players who are looking for cool and breathable socks 

Basketball players who want to boost their speed and agility
Ankle Length Grip Socks
Our ankle-length grip socks are the shortest length of socks we would recommend for basketball. These socks in particular come up to just above your malleolus. 
Since these socks don't come up above the ankle, they don't offer the same sort of ankle support that the previous two do. But, this doesn't mean that they can only be used as yoga grip socks or non-slip socks for Pilates.
You can rest assured that the grip from these ankle-length grip socks provides enough stability and support to the ankle joint. 
The grips prevent your foot from sliding up and down in your shoe. This gives your ankle a lot of support, stability, and control. It also makes changing directions a lot easier and ensures that you don't lose your footing while doing so. 
Our ankle-length grip socks also prevent chaffing and blisters on your feet. This can be something that is super annoying and can affect how you play basketball. Luckily this is not something that you need to worry about with these socks. They will be comfortable and ensure that you have a smooth game.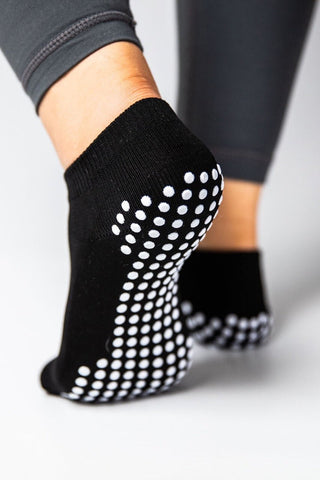 The added control also helps you to increase your explosiveness and speed during matches, which can help you to boost your performance. There is also an added sense of confidence that you get when using them, as you don't have to worry about falling and injuring yourself when playing. 
These socks are made out of a stretchy fabric that is comfortable, cool, and breathable. The length of these socks also makes them ideal for people who live in hot climates and can't handle wearing long socks. 
Get yourself four pairs of these ankle-length grip socks for £22.00.
Why They're Great 
They are great for warmer climates

They limit injuries from occurring 

They increase speed and explosiveness 

They still provide ankle support despite their length 
Who They're Right For
Basketball players who play in hot and humid climates 

Basketball players who don't like wearing long socks 

Basketball players who want more confidence while playing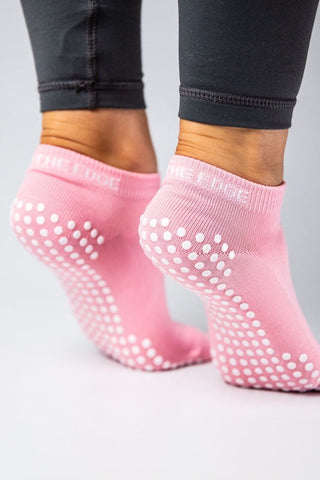 Compression Grip Socks
Our compression grip socks don't just make the best compression socks for CrossFit or the best triathlon socks, but they also make for pretty good basketball socks, too. 
The main benefits of compression socks are that they increase your blood circulation, they help your muscles to recover quicker, they help lessen muscle fatigue, and they decrease swelling. 
All of these aspects are super beneficial to basketball and how well you perform when you play. Since they also reduce inflammation and promote muscle recovery, they help you to recover faster after a game or practice, meaning that you can get back into practice or a game again quicker than usual. 
Basketball is quite gruelling on your feet because of all the quick changes in direction and jumping. Compression socks can help to decrease any swelling in your feet and reduce the pain that you may experience in them. 
When coupled with grip, like ours are, compression socks are one of the best types of socks that you can get for basketball.
Not only do they have all of the compression benefits that we have mentioned, but they also have the grip benefits, too. 
This means that our compression socks will also minimize the chances of you slipping and falling and getting injured. They will provide you with more stability and control over your movements, and they will allow you to improve your speed and explosiveness. 
Overall, our compression grip socks are one of the best socks to enhance your basketball performance and ones that we highly recommend. 
Similarly to our full-length grip socks, you can get four pairs of these socks for £50.00.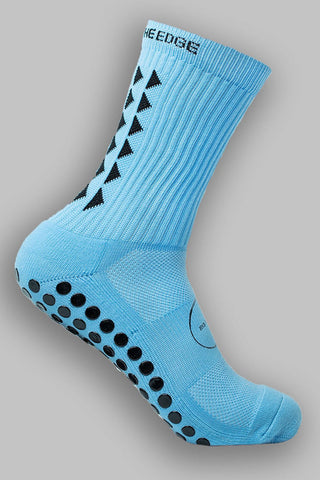 Why They're Great 
They improve blood circulation 

They decrease muscle soreness

They boost muscle recovery

They help control your movements

They help to minimize injuries and falling
Who They're Right For
Basketball players who feel their muscles take a long time to recover

Basketball players who suffer from swollen feet

Basketball players who want to control their movements more
Best Socks For Basketball: Buyer's Guide
Comfort
Comfort is one of the most important aspects of good basketball socks. The basketball socks that you buy are going to have to be trained in and worn for matches, this means you are going to spend hundreds of hours in them, so they need to be comfortable.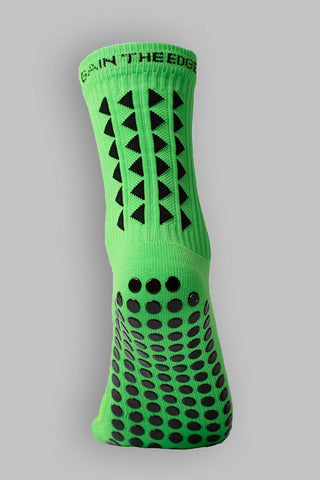 Basketball is also a very high-impact sport. There is a lot of jumping and rapid movements involved, which puts a lot of stress on your feet. Having comfortable socks can help make this a bit easier to handle, and help you to carry on playing for longer.
Materials
When looking at the materials that your basketball socks are made out of, you want to go for materials that are breathable, moisture-wicking and will keep your feet cool. 
The best materials for this are synthetic fabrics due to their incredible moisture-wicking capabilities. Wool is also not a bad option as it can release moisture from the small openings in the fabric. 
You also want to make sure that the material that you choose is comfortable, stretchy, and keeps its form. Some of the best materials to achieve this is a combination of cotton and elastic fibres. 
Cotton is an extremely comfortable material, and great for socks. Cotton alone isn't always the best option, as it absorbs moisture quite a lot. 
But, combining cotton with elastic fibres makes it more moisture-wicking. The elastic fibres also make the socks more comfortable, and help them to keep their shape. 
So, we think that cotton, in combination with elastic fibres, is one of the best ways to go for the best basketball socks. 
Anti-blister Design 
Because there is a lot of jumping and changing of direction in basketball, this can lead to a lot of friction and chaffing inside of your shoe when your sock rubs up and down. This can lead to nasty blisters that can be exceptionally painful. 
These blisters can force you to stop playing your current game, and they can also prevent you from practising or having matches in the days after this, as well. 
So, it is needless to say, this is something that you want to avoid happening. 
You can do this by making sure that the basketball socks that you buy have some sort of anti-blister design. 
One of the most common ways that anti-blister sock designs are achieved is by using grips on the under soles of the socks. These grips will ensure that your socks don't slide up and down in your shoes and cause all of that friction. 
This limits the chances of blisters occurring. 
Support
The support that your basketball socks offer should be in the arches of your feet and around your ankles. These are the areas that take the most stress and strain, so they should be properly reinforced. 
This is even more so the case if you have flat arches or weak ankles. Invest in basketball socks that come with the proper support, and you'll be able to prevent any injuries from occurring in the long run.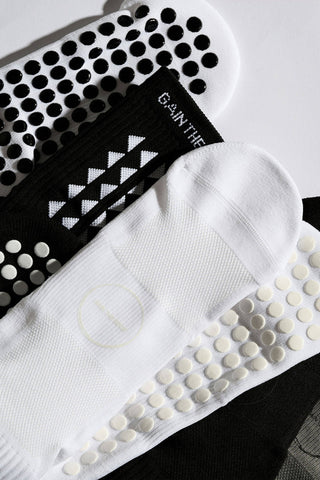 Length
As we have touched on in this article, the length of the basketball socks also has a functional role. 
Full-length basketball socks will provide support to your ankles, and they will also protect your calves and shins from getting scratched if you fall. 
Midcalf-length basketball socks will give your ankles a bit of support and stability, and they will protect your ankles from scratches slightly. 
Ankle-length socks don't offer much stability and support unless they come with grips too. But alone, they don't do much in this regard. We wouldn't suggest purchasing anything shorter than ankle-length socks for basketball. 
Fit
The fit of your basketball socks must be as accurate as possible. If your socks fit correctly, they won't slide down when you are playing, and they will offer you the correct support, and boost your overall game.  
If they are too big or too small, the opposite will happen, and they won't be too effective at all.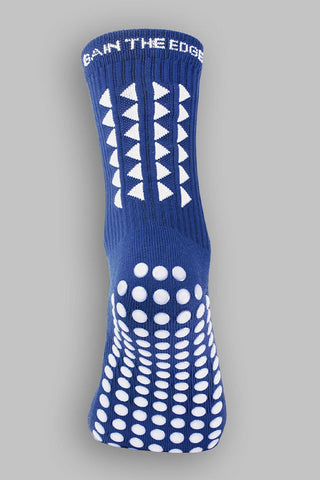 Compression
Compression socks do have many benefits, but it is not necessary to wear them for every basketball practice or match, which is also the case for the best socks for playing tennis.
When you go through periods of many games and hours of practice, then they can be extremely beneficial. But, if you are not overloaded with practices and games, and your muscles are not taking too much strain, then it is not necessary for them to wear all of the time. 
If you are a more professional player, we would suggest perhaps having one or two pairs of compression socks in your cupboard that you can wear from time to time to help increase your circulation and help your muscles recover quicker and more efficiently.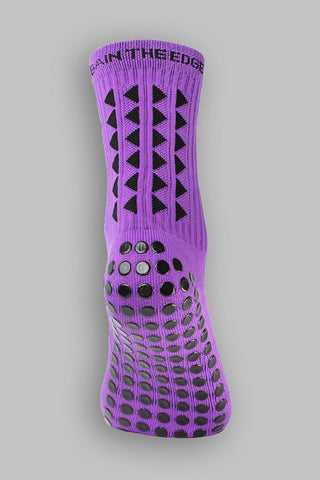 Conclusion
Having the best athletic socks is important for any activity, but even more so for basketball. If you want to improve your performance and get even better than you are at basketball, then we couldn't recommend finding the right socks enough. 
The type of basketball socks that works best for you is very personalized. Everyone has certain preferences and likes different things, so it is important to take that into consideration. 
Hopefully, this buyer's guide will help you to realize what aspects you need to look out for when buying basketball socks and allow you to still personalize them to your preferred tastes. 
Did our blog meet your needs? You might also find our other guides helpful: