When shopping for the perfect pair of socks for men, there are a few things to remember. You want socks that aren't just comfortable but also durable and stylish. 
Choosing socks made from high-quality materials that can keep your feet cosy in the winter and cool in the summer is important. It's also essential to select socks that are appropriate for the activity you'll be doing.
For example, if you're planning on hiking, wear moisture-wicking socks to keep your feet dry. And if you want to prevent blisters or keep your feet dry, look for socks with special features.
This article tells you all you need to know about the best socks for men.
What this article covers:
Best Grip Socks for Men
Ankle Grip Socks
Gain The Edge ankle grip socks are the way to go if you want the best ankle socks for summer sports. While we understand that sports socks are a matter of personal preference, our experience suggests that ankle socks are the best socks for hot weather.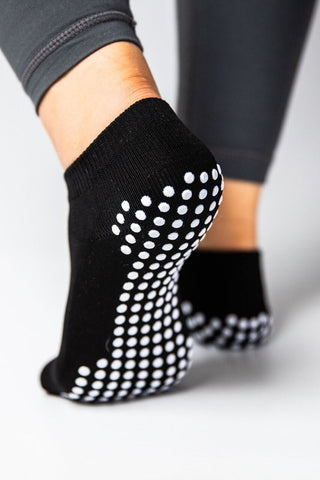 Ankle socks are an excellent option for runners. They're lightweight, breathable, and keep feet cool and comfortable during long runs. 
The silicone grips on the base of our socks provide added traction to help keep your feet from sliding in your shoes. This can help reduce the risk of blisters and other foot-related issues.
Tennis players will love how ankle socks offer more flexibility and movement and give them the support and cushioning they need. 
And for cyclists, supportive ankle socks are a must-have - they'll keep your feet dry and cool on those long rides and provide extra cushioning and support.
Ankle socks aren't just limited to sports gear. You can pair them with footwear, including sneakers, athletic shoes, loafers, and dress shoes. Plus, you can wear them with shorts or jeans. 
Ankle socks can be a great choice for casual outings or events like picnics, outdoor concerts, or park walks, providing comfort and style.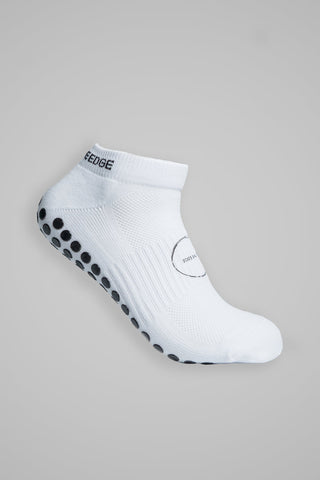 Why They're Great 
They're ideal for summer sports and hot climates

They have breathable moisture-wicking material 

They boast a seamless anti-blister construction
Who They're Right for 
Athletes who want lightweight options for running, cycling or hiking

Men who want comfortable, stylish, and appropriate socks for everyday wear

Perfect for low-top shoes like sneakers, loafers, and boat shoes
GRIP SOCKS 2.0 MID-CALF LENGTH
Are you feeling like your ankle grip socks aren't giving you enough coverage during your sports activities? If that's the case, try mid-calf-length sports socks instead. 
They offer all the same benefits as ankle grip socks, but with the bonus of extending up to your calf, giving you more coverage and protection.
With an array of trendy colours to choose from, your mid-calf socks can also be a fashion statement. Many sportspeople choose socks in team colours to match their uniforms or personal style. But you don't have to save your socks just for sport.
Mid-calf socks provide coverage that can help you maintain a professional appearance in the workplace, especially if you need to dress in business attire.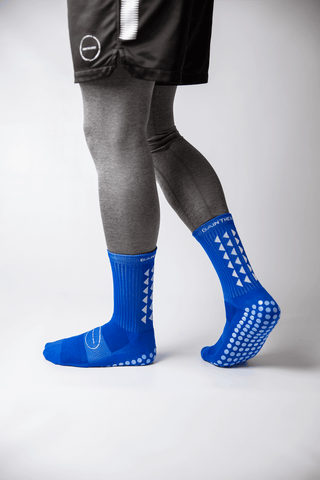 Based on our first-hand experience, Gain The Edge mid-calf-length grip socks are the most comfortable work socks.
The thickness and quality of the material offer plenty of support and cushioning to help prevent foot fatigue and provide comfort during long work hours.
If you work in a colder environment, mid-calf socks can provide additional warmth and insulation to keep your feet comfortable. You can wear them with various shoes, including dress shoes, loafers, and boots, making them a versatile option for work.
Why They're Great 
They provide excellent grip inside your shoes

They aid with balance and stability

They're perfect to wear with lace-up ankle boots 

They provide foot and ankle support and cushioning

They come in a variety of fashionable colours
Who They're Right for
Athletes who use lace-up boots for sports (like MMA) 

People who want more support and stability than ankle socks

Those looking for grip socks in stylish colours

Men who want comfortable socks for work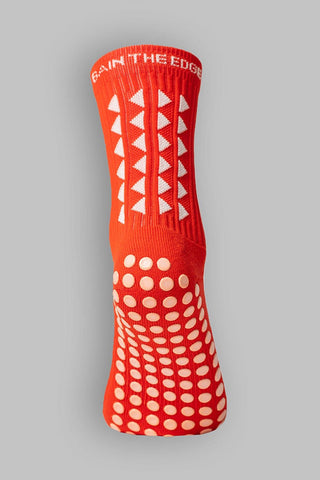 GRIP SOCKS 2.0 FULL LENGTH
Are you looking for the best men's knee-high socks? Our full-length grip socks are the perfect choice. 
Made with elastane fibres, these stretchy socks offer ultimate comfort and flexibility. They provide more coverage and protection for your legs and knees, making them ideal for sports involving sliding or contact with other players. 
Additionally, knee-high socks offer extra warmth to the legs, making them perfect for playing sports in cold weather or on cold surfaces like snowboarding or skiing. 
Full-length men's socks with grip offer additional support and stability to the knees and ankles, reducing the risk of injuries such as sprains or strains.
Grip socks are an excellent tool to boost athletes' performance and movement during sports and physical activities. Like our ankle and mid-calf socks, the full-length version comes with silicone dots on the sole, offering exceptional traction and grip, preventing any unwanted slipping or loss of balance. 
This feature is especially beneficial for sports that require fast and agile movements, as athletes can move freely and confidently without any difficulty.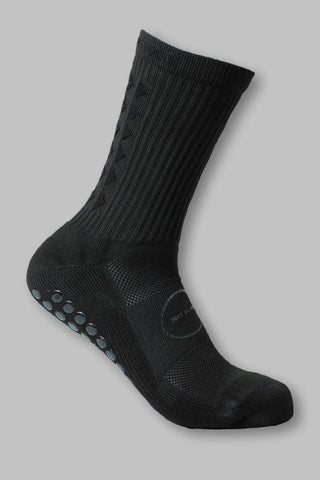 Why They're Great 
They provide the ultimate comfort and flexibility

They provide ankle, calf, and knee support

They come in colours to match your team 

They provide excellent grip inside your sports shoe
Who They're Right for
Sportsmen who want warm gear for winter sports

Sportsmen who want added leg protection

People who want seamless socks

Football players, snowboarders, and baseball players
COMPRESSION GRIP SOCK V1
Gain The Edge compression grip sock V1 sock is designed to enhance traction and grip on various surfaces while providing the benefits of traditional compression socks.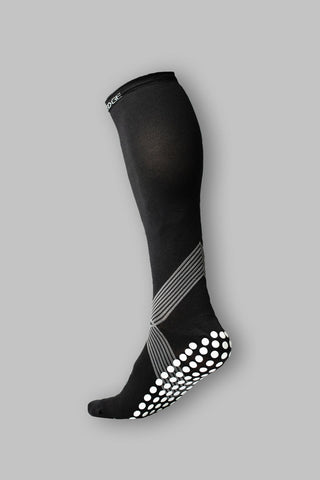 Our brand uses silicone grips with maximum coverage for a secure fit and increased stability. Plus, they cover the heel to prevent any potential slipping. Once you try them, you'll see why they're the best choice.
Gain The Edge men's socks with grips are made of premium cotton and elastic fibres, which give your ankles and calves the right amount of compression for any workout or sport.
The sock is light at just 45 grammes per sock, but it provides exceptional cushioning and protection for your feet. The elastic fibres' compression also ensures a snug, customised fit that moulds to your foot's shape. 
In addition to improving grip, the graduated compression of the sock promotes blood flow and reduces swelling. Compression socks' pressure can shorten the time it takes for muscles to recover after an exercise session, improve endurance, and reduce muscle fatigue and soreness.
After trying out this product, we can tell you that the benefits of these compression socks don't end with sports. 
Men who spend long hours on their feet or sitting at a desk can experience swelling in their legs and feet. Compression socks can help reduce this swelling by providing pressure that helps move excess fluid out of the legs and back up towards the heart. This can help prevent discomfort, fatigue, and even more severe conditions like deep vein thrombosis (DVT).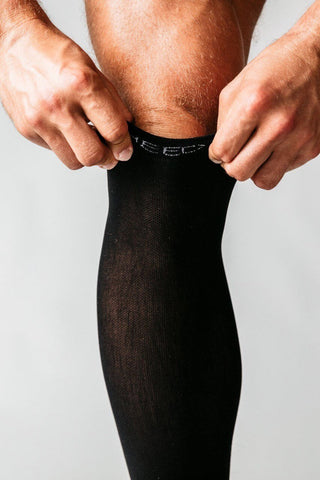 Why They're Great 
They improve blood flow in your legs

They reduce leg swelling in people who sit or stand for long hours

They provide muscle support for the lower leg

They improve athletic performance

They reduce post-exercise recovery time 
Who They're Right for 
Endurance runners 

Athletes who want to improve their performance

Sportsmen who want optimal leg support and stability

Men who spend long work hours sitting or standing

Anybody who wants to improve blood circulation in their legs 
How to Choose the Best Quality Men's Socks 
Comfort 
When it comes to choosing socks, comfort is key. The last thing you want is for your feet to cause distractions while you're working out or attending a business meeting. 
To ensure maximum comfort, look for soft, breathable, and moisture-wicking socks like cotton, wool, bamboo, or synthetic blends like polyester or nylon.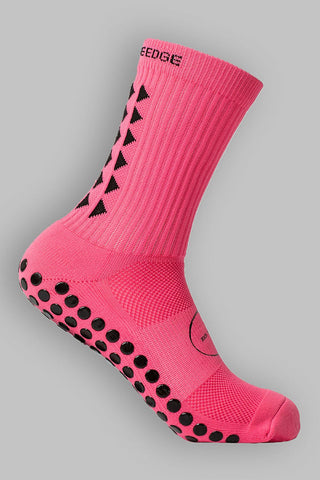 A snug fit that conforms to the foot's shape without bunching or sliding inside the shoe is ideal, and socks with a bit of stretch can provide an even more comfortable fit. 
Opt for seamless socks with cushioning in the heel and toe areas for extra comfort and protection. 
If you're on your feet often, socks with arch support can help reduce fatigue and provide some much-needed relief. 
Style 
When you're on the hunt for a great pair of socks, there are a few things to keep in mind to make sure you get the perfect fit. 
Consider where you'll be wearing them. Do you want casual socks for a relaxed weekend or long work hours in an office, or do you need socks for a specific sport? 
Think about the weather you'll be wearing them in and if you need any special features like extra warmth, cushioning, breathability, or moisture-wicking properties. It's also a good idea to think about the sock's length and thickness to ensure you get the right coverage and flexibility. 
For all you athletes out there, mid-calf socks are a popular choice because they protect your lower leg while still letting you move your ankles around. On the other hand, full-length socks are a better pick if it's super cold out or if you want to cover your whole lower leg. 
If you want extra comfort and support or are worried about blisters, go for cushioned socks with extra padding in areas like the heel and toe. For those who want better grip and control, grip socks with non-slip materials on the soles are the way to go. 
And finally, if you want to improve your circulation, reduce muscle fatigue, and up your performance game, compression socks are the perfect choice.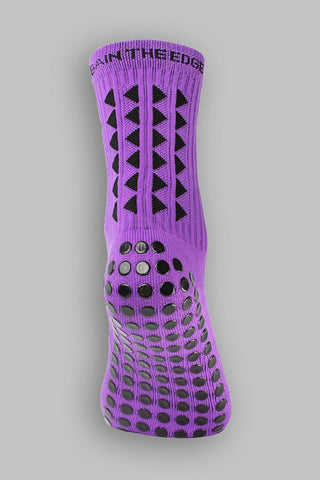 Grip 
If you're looking for versatile socks that can be worn for a variety of occasions and activities, grip socks are an excellent choice. Thanks to their non-slip sole, they provide extra traction on slippery floors or surfaces, which can reduce the risk of slips, falls, and injuries. 
This makes them the best women's socks for yoga, Pilates, or other exercises that require movements on smooth surfaces. 
Not only do grip socks provide safety benefits, but they also offer additional comfort and support for your feet. The non-slip sole can prevent your feet from sliding inside your shoes, reducing friction and discomfort. 
You can wear them around the house, out and about, or when engaging in your favourite physical activity. Plus, if you're looking for a unique and practical gift idea for friends and family members, grip socks are a fun accessory that can add colour or personality to any outfit.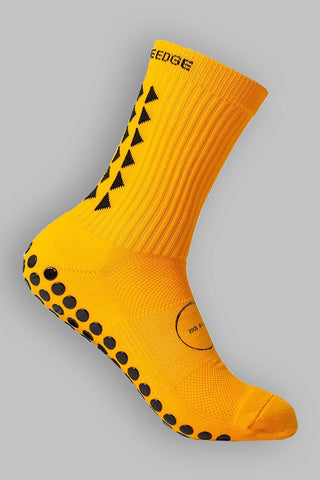 Conclusion
Looking for the best socks for men? Comfort and durability should be your top priorities. 
Whether you need socks for casual wear, sports, or formal events, Gain The Edge offers a variety of options to meet your needs.
Did our blog meet your needs? You might also find our other guides helpful: