In a world where fashion trends are constantly evolving, it's time to focus on an underrated yet essential wardrobe staple: the knee-high sock. 
Often overlooked, a good pair of knee-high socks can elevate a man's wardrobe from ordinary to extraordinary while also providing much-needed comfort and support. But how do you find the best men's knee-high socks?
We've compiled the ultimate guide to help you discover the best knee-high socks available on the market to keep your feet warm, dry, and stylish.
Best Mens Knee High Socks: The Ultimate Buying Guide
It's no secret that knee-high socks offer numerous advantages over their shorter counterparts. From keeping your legs warm during cold weather to providing support during long days on your feet, these versatile socks are an essential addition to any wardrobe.
These socks give you the necessary support and grip you need when engaging in high-impact activities such as running or cycling. This explains why knee-high sport grip socks have become so popular among athletes.
Below are some of the best men's knee-high socks available on the market:
Grip Socks 2.0 Full Length
If you're looking for the best socks for men that offer a combination of durability and comfort, Grip Socks 2.0 Full Length is the way to go. These socks are made from a blend of polyester and spandex that is lightweight yet incredibly durable, providing plenty of cushioning without compromising performance.
The socks also feature a reinforced heel and toe design, providing extra protection in high-wear areas. The fit is snug, so your feet won't feel too loose or too tight, and the sweat-wicking fabric helps keep them dry during even the most strenuous activities.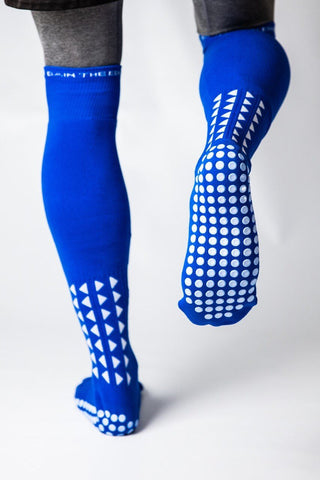 Why They're Great
They're made of shrink-resistant material that doesn't fade

They're designed for long-lasting comfort

Their moisture-wicking technology keeps sweat from building up

They protect against blisters, chafing, and other foot problems
Who They're Right for
Active and athletic men who need more coverage

People who want the

best summer socks

to keep their feet dry, cool, and comfortable during long activities

Those who want a durable pair of socks that will last them for years
Detailed Analysis
We assessed various factors when selecting Grip Socks 2.0 Full Length to appear on this list. They include:
Breathability
Made of durable, lightweight material, these knee-high socks keep your feet cool and dry during extended activity. Mesh panels along the top and sides provide additional airflow to reduce sweat and heat buildup.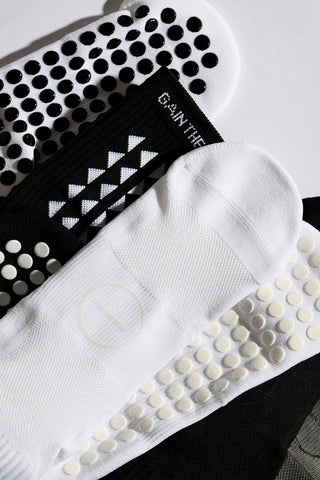 Durability
These socks are designed for long-lasting performance. The reinforced heel and toe areas offer additional protection against wear and tear, so you can go the extra mile without worrying. The elastic arch band and ribbed design also ensure these socks stay up all day.
Cushioning
A cushioned sole adds comfort and helps reduce fatigue, while an extended footbed provides additional support to keep your feet feeling supported throughout your activities. The toe seam is flat to minimise chafing and irritation, so you can wear these socks all day without any.
Versatility
The knee-high length makes these socks perfect for wearing with all types of footwear, from dress shoes to sneakers. They come in various colours and patterns, so you can find the perfect style to match your look.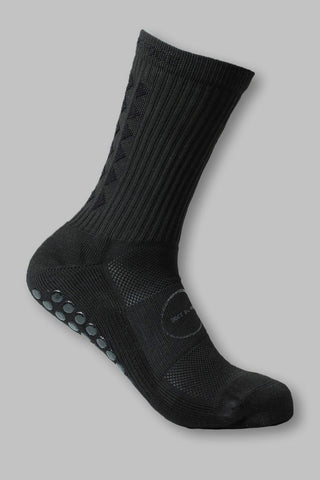 Compression Grip Sock V1
If you're looking for running socks for ankle support and comfort, the Compression Grip Sock V1 could be a great option for you. The Compression Grip features an anatomical fit that hugs your ankles and legs comfortably to keep you supported during strenuous activities.
It's made from moisture-wicking material to help keep sweat away from your skin and has reinforced toe and heel areas for extra durability. Plus, it has a non-slip grip sole designed to reduce slipping while you're running or playing sports.
The Compression Grip Sock V1 complements the best ankle socks in your wardrobe by providing knee-high coverage. Combining style with a functional design, these knee-high compression socks provide support to the lower leg muscles and facilitate circulation in your feet and lower legs. The gradient compression technology reduces swelling, minimises discomfort, and helps keep your legs energised all day long.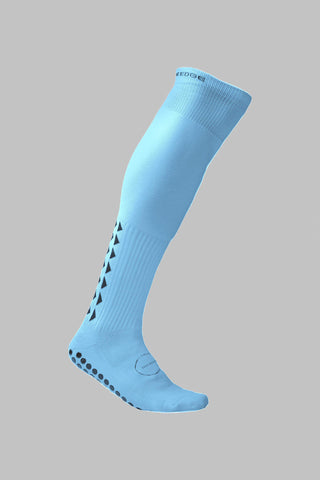 Why They're Great 
The ergonomic design of these socks ensures maximum comfort, with a snug fit that won't hinder movement but still holds in warmth.

The reinforced heel and toe construction makes them highly durable, so you can be sure they won't break down after a few wears.

Even though the fabric is designed to keep your feet warm, these socks are also incredibly breathable and won't cause any discomfort.

The Compression Grip Sock V1 fabric has been treated with a special moisture-wicking technology that helps keep feet dry and comfortable all day long.

Along with providing warmth, the knee-high design of these socks provides extra stability to your ankles and feet.
Who They're Right for
Men looking for a way to elevate their style without sacrificing comfort

Active individuals who want the supportive benefit of compression around their leg muscles

Men who are constantly on their feet and need socks that can keep up with them

Athletes who want to improve performance and accelerate muscle recovery

Anyone who wants a breathable and durable sock to help keep their feet feeling comfortable all day long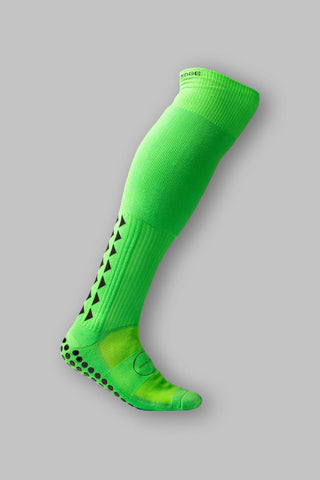 Detailed Analysis
We considered several factors when testing the Compression Grip Sock V1, including:
Compression Rating
The sock contains a light-medium compression rating that is designed for support without putting too much pressure on your feet or legs. It's made with a high-stretch fabric that provides a snug fit with plenty of flexibility to move with you.
Fabric Construction
The fabric is designed for maximum breathability and comfort while offering strong durability. The blend of premium-quality materials makes the sock soft yet strong. It also offers excellent moisture-wicking capabilities to keep your feet dry and comfortable all day.
Cushioning Durability
The cushioning in the Compression Grip Sock V1 is designed to be durable and provide good shock absorption while still being lightweight. The strategically placed cushioning helps relieve pressure points and reduce fatigue.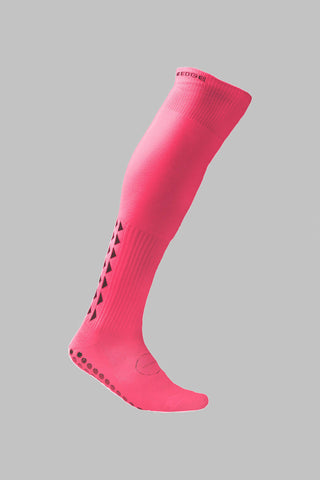 Arch Support
The arch support on the Compression Grip Sock V1 is designed to offer additional stability and support your every step. The ergonomic design also helps to properly align your feet, ankles, and legs while helping prevent injury.
Overall Comfort
One of the things we noticed when we tested the Compression Grip Sock V1 was how comfortable it felt on our feet. The high-quality fabric helps keep your feet cool and dry all day while reducing friction and chafing. The cushioning also adds a nice level of comfort, especially for those who stand or walk for an extended period of time.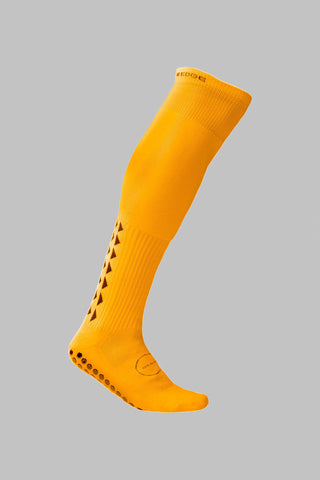 Final Thoughts
Knee-high socks are an essential part of any man's wardrobe. Whether you're looking for a supportive compression sock or one that's simply comfortable and stylish, the options outlined above can provide the perfect solution. 
When choosing the best men's knee-high socks, consider your lifestyle and budget to find the ones that suit you best. They can add a touch of style and flair to any look and offer valuable support and comfort.
At Gain The Edge, we're passionate about providing you with socks that optimise your performance, from men's knee-high socks all the way to the best women's socks in the UK. So you won't slip because our standards never do!
Did our blog meet your needs? You might also find our other guides helpful: