Whether you're just getting into the sport or are a professional rugby player, you might be looking for a way to up your game. From practice to gear, it's important to have everything in top form if you want to win.
But what about grip socks? You might not be aware of all their amazing benefits.
And that's why we're here. From increased stability to insane affordability, grip socks are a powerful way to enhance your performance. In this article, we'll cover the benefits of grip socks for rugby so that you can easily come out on top.
The Benefits of Using Grip Socks for Rugby
Increased Stability 
Most athletes who wear normal socks have the same problem: their feet slip inside their footwear. This is because socks are too smooth, which removes the grip between the foot and the shoe.
So, if you need to bank quickly or charge in rugby, it's usually half the power it could have been. 
That's where sports socks with grip come in handy.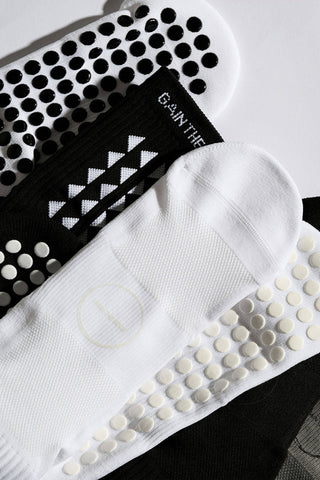 The rubber grippers attached to the bottom of grip socks powerfully increase stability. They prevent slipping, anchor your feet in footwear, and give you the stability to move confidently and intentionally when playing. 
Better Tackling Ability 
With increased stability, you'll also notice a big improvement in your tackling ability–and it's all because grip socks make the most of every movement. 
The energy you waste compensating for the slipperiness of normal socks can now be used to charge your attacks. Grip socks give rugby players the ability to take off better, gain speed faster, and build insane momentum on the field. 
Correct Body Alignment 
When we think of body alignment, we don't often think of our socks and the impact they can have. But when you play rugby with grip socks, you'll notice how big a difference the right socks can make. 
Because of the decreased stability of normal socks, rugby players are constantly righting their bodies and wasting energy while battling uneven footing. This is tiresome, but it's also bad for your knees and back.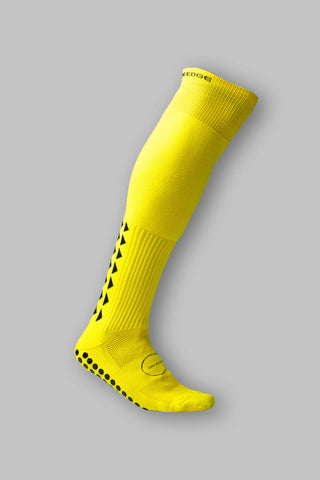 Fortunately, with extra grip, alignment comes naturally. You won't need to constantly right your footing or waste energy to keep your body centred. 
Instead, you can use that energy to win your game and say bye-bye to back and knee pain. 
Improved Performance
Whether you're browsing gymnastic socks for men or sports socks for women, all athletes aim to improve their performance. Exercise and practice is the most effective way to improve. 
But don't overlook the impact gear, especially grip socks, can have. 
With increased stability, less slipping, and more tackling power, you can seriously level up your game. When you're performing at 110% with grip socks, you can easily maximize your rugby potential.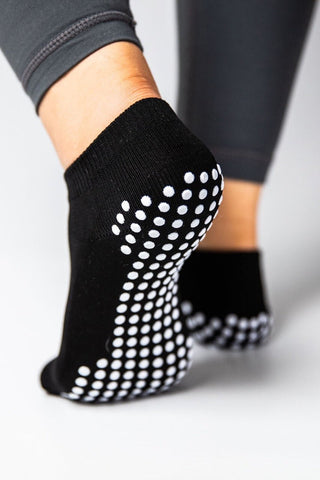 Versatility
If you're a rugby enthusiast, you probably enjoy a variety of other activities, like walking, running, or going to the gym. If so, grip socks are an even better investment for you. 
Grip socks are extremely versatile, and provide support and improve performance in countless sports. If you wear footwear and socks for an activity, grip socks will help. 
So, whether you need yoga grip socks, trampoline grip socks, or walking grip socks, a good pair will help you improve in all your sporting endeavours.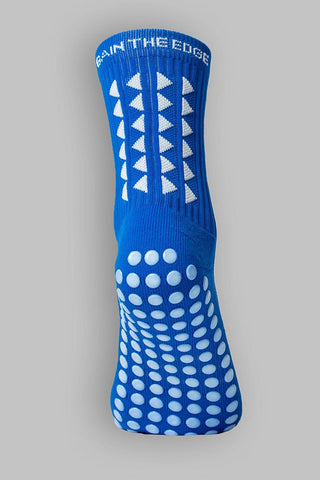 Affordable
Finally, the biggest benefit of grip socks is their affordability. You'd think a sock with so many benefits would be expensive, right? But grip socks are super affordable. 
Of course, there are outliers. Some grip socks can be very expensive, but the majority are affordable and high quality. 
Combine their affordability, the hundreds of available design options, and their reusable nature, and you've got yourself an endless supply of performance-enhancing equipment that far outweighs its cost. 
Conclusion
Grip socks are an awesome addition to any rugby kit. With benefits like increased stability, better tackling, and improved body alignment, we'd even consider it an essential piece of gear. 
But when you combine the above benefits with its versatility and affordability, it becomes obvious that grip socks are a must-have item for every rugby player. 
Now that you know what you need to do to improve your rugby abilities, purchase your first pair of sports grip socks and watch the magic happen.
Did our blog meet your needs? You might also find our other guides helpful: