If you want to be a great snowboarder, it's important to have impeccable balance, coordination, and control over your movements. You'll need to shift your weight, flex your knees and ankles, and use rotational movements to make turns. 
Having excellent edge control is key to making precise turns and coming to a stop. And remember, keeping your balance is essential for staying steady while you ride!
Whether you're a novice or a pro, when you rely on controlling your movements (to stay upright), you can't have your socks letting you down. 
This is where the right socks count. Let's take a look at the best snowboard socks on the market. 
What this article covers:
Best Snowboarding Socks
We've compiled a list of the best snowboarding socks that prioritise comfort, durability, stretch, moisture-wicking, and breathability. Here are our top recommendations for snowboarding socks.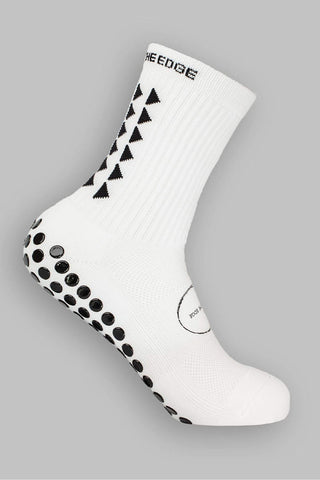 Grip Socks 2.0 Full Length 
 If you're a snowboarding fanatic, you'll love our full-length grip socks! They're perfect for keeping your feet and lower legs protected and insulated while you hit the slopes. 
Snowboarding boots can be tough on your feet. Still, these socks offer extra cushioning to prevent chafing, blisters, and other irritations. 
Plus, they regulate the temperature of your feet, keeping them cosy in the cold without any sweaty discomfort. Best of all, they can improve your boots' fit by filling any gaps and creating a snug, secure fit that enhances your control and responsiveness on the board.
Our grip socks have got you covered when it comes to snowboarding, thanks to small silicone dots on the soles that provide extra traction and grip. If you're someone who experiences foot slippage or sliding inside your boots, we think our full-length grip socks are the perfect solution. 
Snowboarding boots are designed to provide support and control. Still, their stiffness can make it challenging to maintain a secure grip. With our grip socks, you can create additional friction between the sock and the inside of the boot, reducing the risk of slipping and enhancing overall stability.
Full-length grip socks are versatile and suited to various sports. For example, they make the best golf socks for cold weather.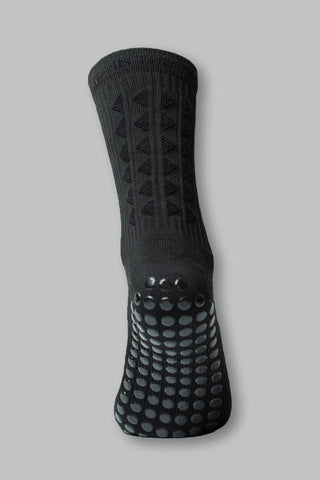 Why They're Great 
They keep your legs warm

Ventilation and excellent moisture wicking

Blister prevention on feet and ankles

They have excellent grip for added stability

They're suitable for various winter sports 
Who They're Right for 
Athletes who need more coverage and support for the lower leg

Snowboarders or winter sports enthusiasts who want added warmth and insulation

Those who need extra cushioning against impact 

Those who want to prevent chafing 
Mid-Calf Length Grip Socks
If you prefer a shorter sock length or find full-length socks too restrictive, mid-calf-length grip socks for snowboarding may be the perfect solution. 
Our durable mid-calf socks can provide cushioning and support to help protect the foot and reduce pressure points.
As with our full-length socks, mid-length socks with grip bottoms improve overall grip and stability inside snowboarding boots. 
Mid-calf length grip socks can also be versatile, as you can wear them for other winter sports or activities. They can provide added grip and stability for ice skating, skiing, or other winter sports that require supportive footwear. Mid-calf length grip socks are the best-rated socks for tennis.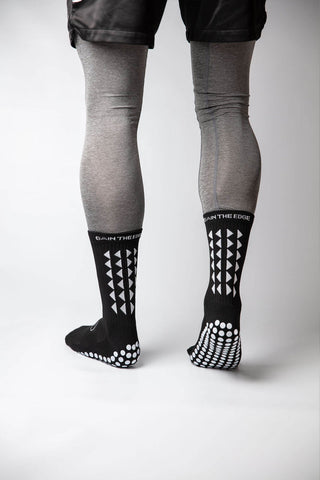 Plus, if you're using them in sports where they're visible, they're available in various trendy colours. Stay unobtrusive with these black grip socks, or choose brightly-coloured grippy sports socks that match your football team jersey.
Why They're Great
They can be used across multiple sports 

They're less restrictive than full length socks

There's a great selection of fashionable colours

They're Breathable and comfortable
Who They're Right for 
Male and female sports people 

Those who want to prevent slipping in their shoes

Those who want good cushioning for their feet

Anybody who wants to use grip socks for sport

Those who want colourful sport socks
Grip Socks 2.0 Ankle-Length
Snowboarding requires a combination of strength, power, endurance, and balance. If you're hitting the gym to improve these physical attributes, workout socks with grip are the ideal choice. 
Whether you focus on deadlifts, squats, lunges, explosive jumping, or bounding movements, ankle-length socks for the gym will enhance your workout.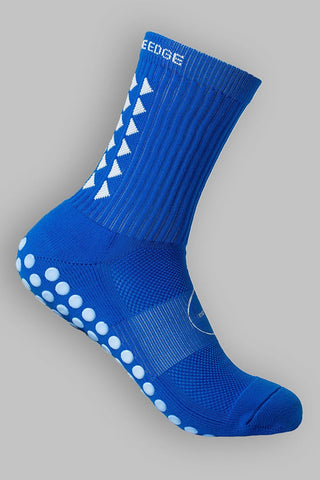 Gone are the days of the conventional ankle sock sliding around your shoes. After trying out this product, we believe the non-slip properties of these socks make them the best grip socks for any workout in the gym and the best socks for CrossFit. 
Whether you want grippy socks for yoga or gym socks for women, there's plenty to love about this brand.
Why They're Great 
They have a low-rise design

They don't slip down in the shoe

They have great grip for stability

They're suitable for various sports events

They're great for warmer weather
Who They're Right for 
Sports people who want to keep their legs cool while working out

Athletes who prefer ankle socks

Sports people who prefer less restrictive socks

Snowboarders who work out in the gym
Compression Grip Socks 
Based on our first-hand experience, the Gain The Edge compression grip sock V1 isn't a typical sock. It's specially designed to give you a better grip and more stability on different surfaces. 
Whether you're a pro or just starting out as a snowboarder, our premium cotton and elastic fibres provide the perfect compression for your calf and ankle areas.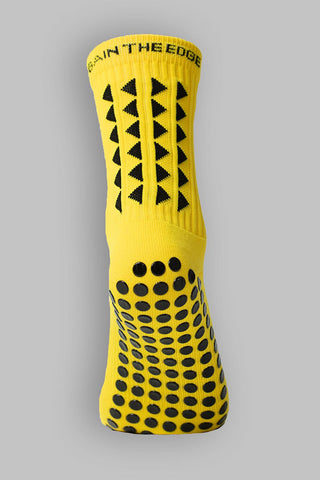 Our sock is super lightweight—only 45 grams—but it still provides quality cushioning and protection for your feet. Plus, the elastic fibres give you a snug fit that feels tailored for your feet. 
The graduated compression promotes blood flow and reduces swelling, which is a big help for people who spend a lot of time on their feet or experience muscle soreness and fatigue. 
You might think the grips on our socks look like those of other brands, but we've actually used multiple, smaller silicone grips that cover a larger surface area. This gives you even greater stability! 
And if that wasn't enough, our grips extend up the heel of the sock, increasing the stability of your foot even more.
Why They're Great 
They reduce muscle pain and cramping

They speed up recovery 

They prevent injuries 

They boost blood circulation

Their graduated compression optimises blood flow

 
Who They're Right for 
Snowboarders who want better stability 

Sports people who want to improve performance

Those who want better lower leg support and improved proprioception which is beneficial for quick changes in direction

Those who want to reduce post exercise muscle soreness
How to Choose the Best Socks for Snowboarding
Choosing the best socks for snowboarding can be an important part of ensuring comfort, warmth, and performance on the mountain. Here are a few factors to consider when selecting snowboarding socks.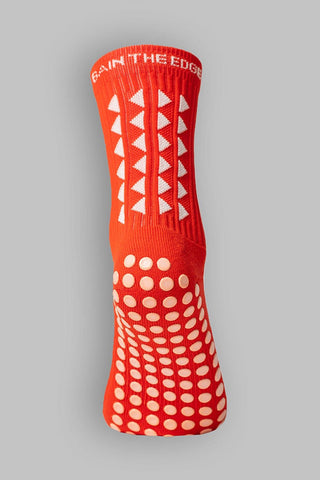 Sock Type 
If you're looking for the perfect snowboarding socks, there are a few things to consider. First, consider the weather conditions you'll be riding in and what features you need. 
Do you want extra warmth, cushioning, or grip? Also, consider the sock's length and thickness to ensure you have the right amount of coverage and flexibility. 
Mid-calf socks are a popular choice for snowboarding because they provide coverage and protection for your lower leg while allowing for movement around the ankle.
Full-length socks are great for colder weather and for those who want maximum grip and cushioning inside their boots. If you're worried about blisters or want extra comfort and support, look for cushioned socks with added padding in high-pressure areas like the heel and toe. 
Compression socks can improve circulation and reduce muscle fatigue, enhancing your overall performance. And if you're looking for better traction and control, we've found that grip socks with non-slip material on the soles are a godsend.
Materials
When it comes to picking out the perfect snowboarding socks, it's essential to keep a few things in mind. You want something that will keep your feet warm, dry, and comfortable all day on the mountain.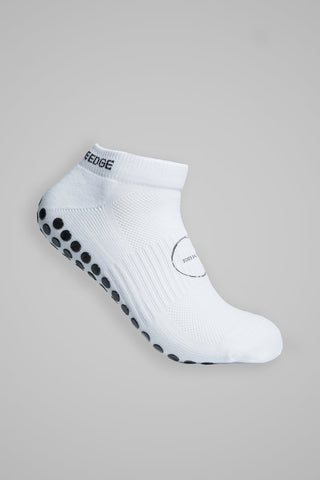 One excellent option is merino wool. Not only is it naturally moisture-wicking and quick-drying, but it also provides excellent insulation even when it's wet. Plus, it's super soft and cosy. The best socks to prevent athletes' foot have excellent moisture-wicking properties. 
Synthetic materials like polyester and nylon are also popular choices for snowboarding socks. They're lightweight, quick-drying, and can be blended with other materials like spandex to give you extra support and stretch. 
Silk is a nice option if you're looking for something lightweight and breathable, but remember that it's not as durable or warm as some of the other materials we've discussed. So if you're planning on snowboarding in extreme cold or wet conditions, you might want to go with something else. 
You should also avoid cotton for snowboarding socks since it absorbs moisture and can become cold and uncomfortable when wet. While cotton may be popular for everyday socks, it is not suitable for the demands of snowboarding.
Grip 
When picking out socks for snowboarding, it's essential to think about grip. Grip socks offer increased traction and control inside snowboard boots. 
The non-slip material on the soles of these socks prevents your feet from slipping inside your boots, improving balance and decreasing the chance of injury.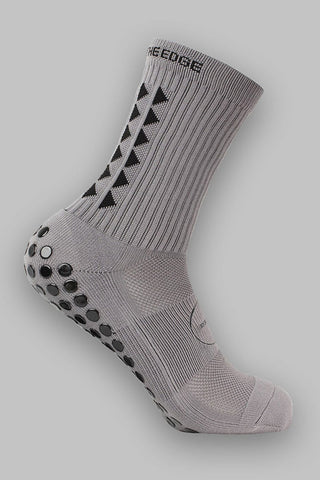 During snowboarding, your feet move and shift continuously, causing socks to bunch up or move. Grip socks keep your feet in place, improving comfort and performance on the mountain.
Additionally, they offer extra support and cushioning to reduce fatigue. The non-slip material on the soles absorbs impact, decreasing pressure on your feet and lowering the risk of blisters, soreness, and other foot-related injuries.
Compression
Consider wearing compression socks if you want to step up your game on the mountain. These socks offer a variety of benefits that can help you counteract fatigue and soreness in your legs. 
Specifically, they provide targeted compression around your calf and foot, which can enhance blood flow and circulation. This improved circulation can help you ride for longer periods without experiencing discomfort. 
When you snowboard, your muscles work hard and can become sore from constant vibration. Compression socks can reduce muscle vibration, making you feel more comfortable and perform better on the mountain. 
Our team discovered through using this product that compression socks can also speed up your recovery process by improving circulation and reducing inflammation. This can help you feel less sore and more energised for the next day of riding. In addition, compression socks provide extra support for your feet and legs, improving your stability and balance on the mountain. 
This added support can also reduce your risk of injury and boost your confidence while riding.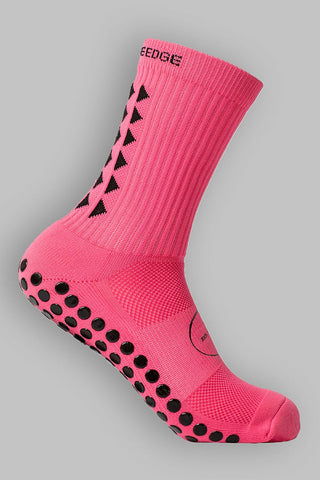 Comfort 
When it comes to snowboarding socks, it's important to find a pair that fits comfortably and provides the necessary support, cushioning, and moisture-wicking properties. 
The thickness of the sock will depend on your personal preference and the weather conditions you'll be skiing in. Thicker socks will keep your feet warmer and more cushioned, while thinner socks offer better breathability and a more streamlined fit. 
It's important to make sure the socks fit snugly around your foot and calf without feeling too tight or restrictive. A snug fit will help prevent the socks from bunching up or slipping down, which can be uncomfortable and affect your performance on the mountain. 
Some snowboarding socks also have additional features like arch support, ankle cushioning, and compression technology.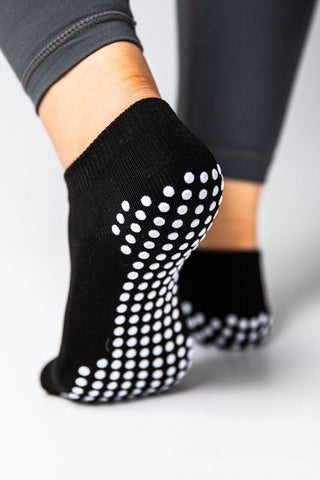 Size 
When it comes to snowboarding, having the right size of socks is key to a comfortable and secure fit. 
Most sock brands have size charts to help you choose the correct sock size based on your shoe size. 
Make sure to pick a size that fits snugly around your foot and calf without feeling too tight or restrictive. It's always a good idea to try on your snowboarding socks with your boots before hitting the slopes just to make sure they fit comfortably and securely. 
If you're not sure about the size, it's always better to size down instead of up, so you don't end up with socks that bunch up and cause discomfort.
Durability
When shopping for snowboarding socks, it's good to go for ones made from high-quality materials or synthetic blends. Look for socks with reinforced areas in high-wear zones, such as the heel and toe. 
These reinforced areas will help prevent holes and other types of damage, a common problem spot for snowboarding socks. 
For an extra layer of protection, select socks with ample cushioning in the sole and other high-impact areas to absorb shock and reduce the risk of wear and tear. 
Lastly, consider socks with seamless construction or minimal seams to reduce the risk of irritation and friction, which can cause socks to wear down faster.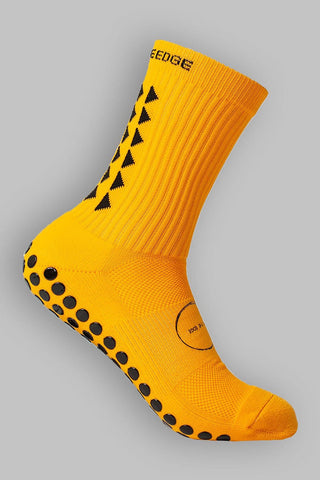 Brand Reputation
Whether you're looking to buy snowboarding socks, trampoline grip socks, or grip socks for rugby, choosing a brand with a good reputation is essential. This will help you find high-quality socks that are comfortable, durable, and designed specifically for snowboarders.
Plus, if you have any issues or need help with your purchase, a reputable brand will have excellent customer service to back you up. 
To make sure you're making the right choice, it's always a good idea to do some research and read reviews from other snowboarders who have tried different brands. You can also reach out to other snowboarders or even ask your local snowboarding store for recommendations. 
Conclusion
If you're someone who loves snowboarding but often slips or feels uncomfortable in your boots, then you'll be happy to know that grip socks exist! 
These socks can really help improve your grip and balance while also preventing any painful blisters or irritation. Trust us, investing in a good pair of grip socks is totally worth it if you want to Gain The Edge on the slopes. 
Did our blog meet your needs? You might also find our other guides helpful: