But whether you're out on the football field, on the athletics race track, or on the golf course, there's one thing you have to remember. Not all socks are created equal. 
When you're a sportsperson, ordinary socks just won't do. You need socks that work and play as hard as you do. And the obvious choice is a pair of professional sports socks. But do you know how to choose the best sports socks for you?  
Find out all you need to know about the best sports socks, and their benefits, in this guide.
What this article covers:
Best Socks for Sports
When reviewing the best socks for sports, some criteria stand out. These are performance, durability, comfort, stretch, and moisture-wicking properties. Why are these factors important? They help you to stay focused on your sport, even when things get tough, and even when you get hot and sweaty.
The following non-slip sports socks meet all these criteria, but each also has its own unique advantages. Let's take a closer look at them, now, so you can learn which sports socks are the right ones for you.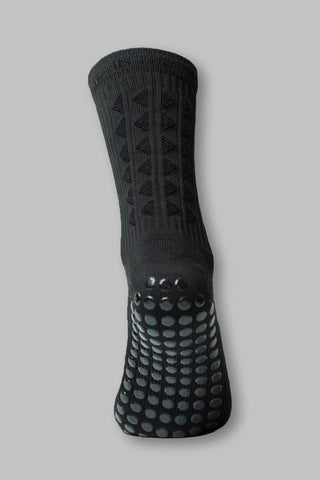 Ankle Length Grip Socks
If you're undecided between comfy ankle-length sports socks and socks with grippers on the bottom, don't fret. You can have both! 
These ankle-length grip socks are the perfect combo of comfort, performance, and classic style. And they're available in 3 ever-popular colours - black, white or soft pink. Many sports people prefer ankle sports socks, but slippage is a common issue. That's not a problem with these grippy anklets. 
They offer excellent non-slip qualities, making them ideal grip socks for gymnastics. They're also suitable as yoga-pilates socks with grips because although they have good grip, they're also soft and comfortable.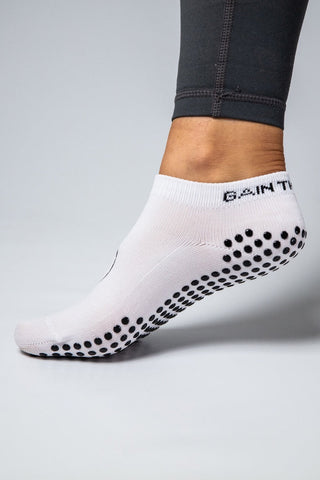 These sports entail intricate movements of the legs and especially the feet. These grippy ankle socks  help gymnasts and pilates/yoga practitioners stay secure on the wooden floors in gym studios. However, they are great for all sports people who need the security of comfortable, non-slip socks.
Why They're Great
Low-rise styling

Superb grip inside your sports shoes

Lightweight and comfortable

Suitable for summer sports events
Who They're Right For 
Sportspeople who want less heat on their legs like runners

People who prefer less restrictive wear like gymnasts

Anyone who prefers the look of a classic ankle sock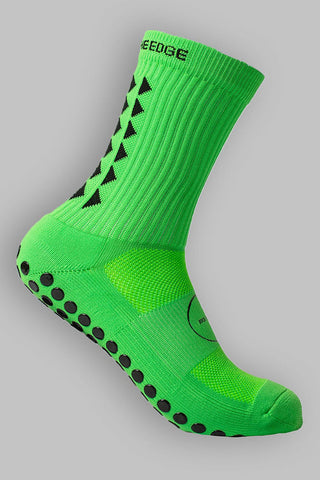 Mid-Calf Length Grip Socks
Do you prefer a little more coverage from your sports socks? Or perhaps you like a little colour in your life? That's not a problem. These mid-calf length socks have the best features from the ankle grip socks, but cover the foot and leg up to the calf. 
They are durable and stretchy, promising longevity that other sports socks just don't have. This is thanks to the inclusion of elastane fibres that help the sock move with you. Yet they retain their shape beautifully and are even machine washable for the most convenience. 
What's more, they're available in an array of bold and trendy colours. Go classic with the black grip socks for football or change things up with a colourful pair of navy blue grip socks for the basketball court.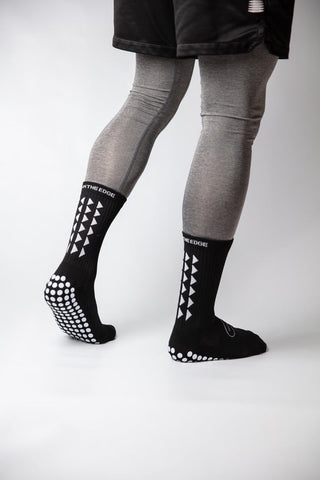 Why They're Great
Excellent support and cushioning without being too restrictive

Warm yet breathable 

Colourful and fashionable

Can be worn with high-top lace-up ankle boots (like some MMA fighters wear)
Who They're Right For 
Sportsmen who don't want to sacrifice colour and style for function

Everyone who wants more ankle and calf support

Anyone who needs extra warmth and cushioning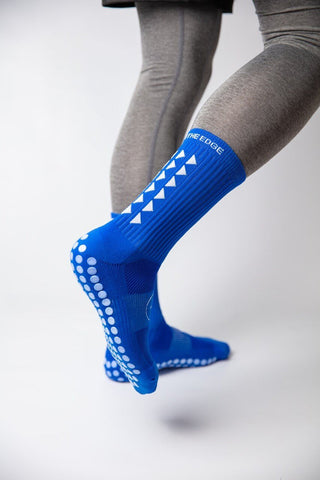 Full-Length 2.0 Grip Socks
Popular with basketball players, knee-high socks are also great for cooler weather. Need even more leg coverage and knee support, but still enough grip to keep you secure in your sport? Full-Length Grip Socks are the way to go. 
These are not just high-quality best performance basketball socks, they're also ideal for other ball sports like volleyball or baseball. With all that movement on the court, things get hot and sweaty, fast. But the moisture-wicking properties of these socks allow you to stay cool in the heat and intensity of the game.
While thick enough to give you the cushioning you need in your sports shoes and trainers, they are still lightweight and breathable enough for active sports.
Why They're Great
Ankle, calf

and

knee support, these socks do it all

Fun colours

Extra warmth, comfort and cushioning

The grips you need for stability in your shoes

Ideal for winter sports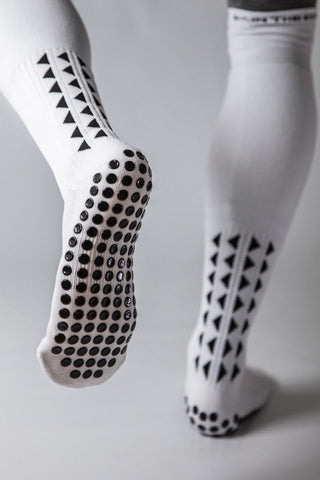 Who They're Right For 
Basketball, softball, baseball and volleyball players 

Everyone needs more coverage and support for the lower leg

Fans of colour
Compression Socks 
Compression socks are regarded as the best socks for playing tennis as well as the best socks for Ironman or triathlete events. 
The support you get from good-quality sports socks, particularly compression socks, can't be overlooked. Aches and pains are a common malady that professional sportspeople have to endure. Good compression sports socks still provide ankle, arch and calf support, but also help to reduce vascular issues.
Compression Grip Socks provide maximum support to the lower leg up to, but ending just under, the knee. They increase venous velocity and decrease the pooling of blood in the lower legs. And, of course, the grips protect against that dreaded toe slippage even during sweaty conditions.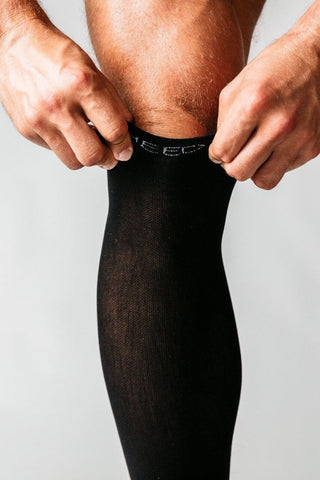 Why They're Great
Extra support for the lower leg

Prevents pooling of blood in the feet, ankles, and calves

Eliminates swelling of the lower legs and feet

Reduce aches and pains after a game
Who They're Right For 
Runners, basketball players, triathletes, golfers, and soccer players.

Everyone who experiences lots of aches and pains in their legs after sports matches

Anyone with deep vein thrombosis or chronic venous insufficiency, and postoperative patients.
Benefits of Using Socks for Sports
Wearing socks for sports is a matter of personal choice. Some sports people don't wear them, and others can't perform without them. But, the vast majority of sportspeople do wear sports socks. Let's look at the benefits that wearing professional sports socks provides.
Comfort & Warmth
No one can concentrate on their sports match if they're cold or physically uncomfortable. When your feet are comfortable, you play a better game. This is especially evident in cooler climates and in winter sports, where sports socks give you the warmth and cushioning you need.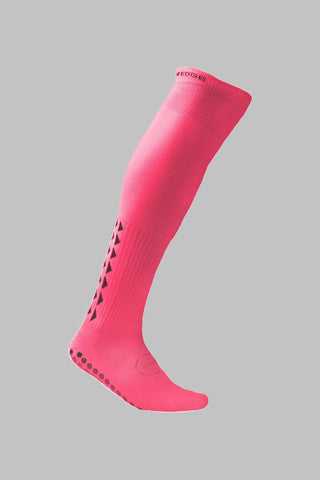 Protection & Support
Many sports people have started sockless and quickly switched to good quality sports socks. Why? Wearing tight-fitting sports shoes (especially new ones)  without socks can cause chafing and blisters, which will have you in agony in no time.
Absorption & Moisture-Wicking
This is one of the most important benefits of wearing top-quality sports socks. They wick moisture away from your feet and between your toes, which would cause slippage. They are also your best bet to prevent fungal infections caused by long periods in sweaty socks and shoes.
How to Choose the Best Athletic Socks for You
If you're new to the world of sports, this may all seem very bewildering. Don't worry, we've rounded up the top features to look for to find your best sock match.
Style
What are the best grip socks for you? Socks that meet your own sporting needs are your best match. But if you're a professional athlete, there may be rules regarding the length and colour you can wear during matches. Check that out first, then select the best match from the list above.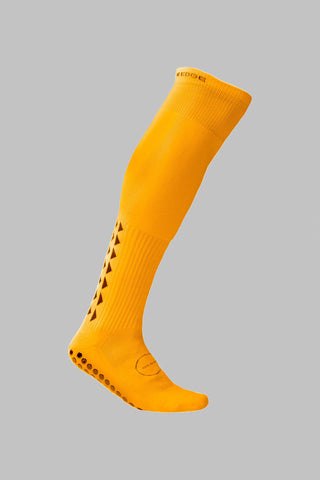 Support
How do you spend most of your time during your sport? Do you do a lot of running or walking? Many people have found that ankle or mid-calf-length grip socks are the best golf socks ever. But after a while, compression socks are the answer to post-game aches and pains. 
Comfort
Your comfort is key when you're partaking in your sport. It allows you to give it your all, focused only on the game. Wearing socks that are too thick, too thin, or not grippy enough, will quickly distract you from your goal. Consider your comfort levels when choosing the right grip sports socks for you. 
Conclusion
When you head out on the field or the course, you don't do so without the right gear. You'll be wearing special clothes and depending on your chosen sport, carrying specific equipment. So don't forget to wear the right socks.
Wearing the best sports socks can give you the comfort, confidence, and manoeuvrability you need to up your game. Get yours today here at Gain The Edge, and gain the edge over your competitors.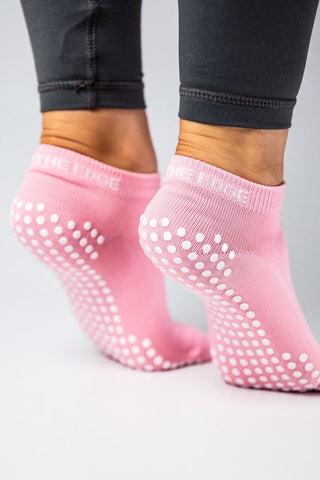 Best Sports Socks (FAQs)
Are cotton socks good for sports? 
Many people are surprised to learn that all-cotton socks, while comfortable and breathable, are not necessarily the best choice for sport. Many cotton sock brands just don't offer the degree of moisture-wicking required of high-intensity sports. 
When you're constantly on the move, your feet sweat, and that moisture has to be drawn out of your shoe or your feet will slip. Synthetic cotton blends are a better choice for many sportspeople, which is why our cotton socks with elastic fibres are the ideal combo.
What are the best socks to wear to prevent athlete's foot?
The condition called athlete's foot is so named because it's a problem that athletes often face. When sweat is trapped inside your socks and sports shoes, that warmth and moisture can become a breeding ground for bacteria and fungal infections. 
Are cotton socks good for athlete's foot? Because they tend to absorb more moisture than they wick away, many sports people rely on other moisture-wicking materials to prevent athlete's foot. Also, always wear clean, dry socks, and air your sports shoes after every game or match. 
Look for socks that are thin and lightweight enough to allow for better airflow and sweat evaporation. 
How regularly should sports socks be replaced?
There is no exact answer to this, as it depends on your usage. Sportspeople tend to do a lot of mileage in their socks, so they need to replace them even more frequently. 
As a general rule of thumb, sports socks should be replaced every 3-6 months or every 300-600 miles of wear. Failure to do so means you'll be running around in socks that have become worn or threadbare, and lack the support you need.
Did our blog meet your needs? You might also find our other guides helpful: