As an athlete, your goal is to improve with every practise session. But to improve, you need the best gear. For a gymnast, that means having the best grip sports socks — ones that'll help you move with confidence. 
Through tireless research, we've brought you the best gymnastic grip socks on the market. Let's take a look at why these socks are the superior choice for your gymnastics goals. 
What this article covers:
Best Grip Socks for Gymnastics
Let's take a look at the best gymnastic grip socks, why they're great, and who they're right for.
Ankle Grip Socks 
After putting it to the test, ankle grip socks are by far one of the two epic choices for gymnastics—and here's why.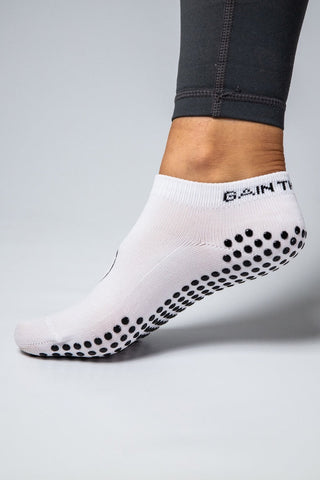 First, they're the perfect length. As a gymnast, excess clothing can get in the way of tricks or getting the right grip. But these grip socks provide maximum support with minimum interference. 
This brings us to our next point: fit. These ankle grip socks are made from a cotton and elastane blend. They won't move or fold, no matter the movement. The snug fit is also multifunctional, making them great yoga grip socks and pilates grip socks.
Combine this with the anti-blister technology and breathable material, and it becomes easy to see why we think these socks are a great choice for any gymnast. 
Finally, there's the sock grip. 
The rubber grippers on the sole of these ankle socks and the snug fit are a performance dream team. You can move around as much as you want without having to worry about the grippers falling off or the socks not staying on your feet. This is especially important if you need trampoline grip socks for your gymnastic performances. 
All in all, we found that these ankle grip socks maximise performance while maintaining personal comfort.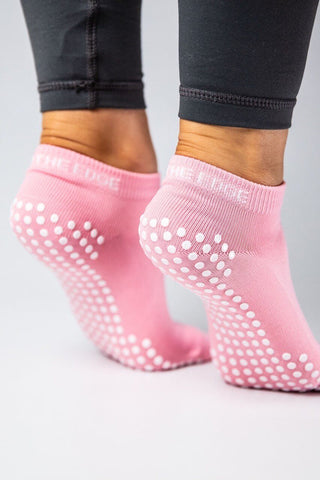 Why They're Great 
Excellent grip 

Snug fit that doesn't move or fold 

Breathable material 

Stylish design

Anti-blister technology 
Who They're Right for
Gymnasts that need cooler gymnastic grip socks 

Gymnasts who want as much exposed skin as possible

Gymnasts who need

socks for athletes' foot

Gymnasts who struggle with blisters
Mid-Calf Length Grip Socks
Based on our observations, the next and best sock for gymnasts is mid-calf-length grip socks, also known as crew grip socks.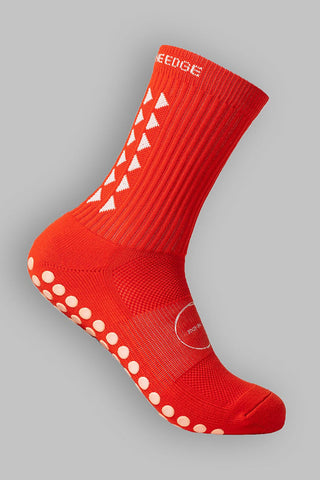 Similar to ankle-grip socks, these mid-calf-length socks provide maximum support with minimal interference. The longer length of these socks makes them perfect for athletes who live in colder climates and need to keep their muscles warm while performing. 
But don't let the length fool you. Even though they're longer, they're still breathable. The socks are perforated, and the cotton blend makes them perfect for athletes who want to avoid sweating on mats or beams. 
They feature our signature gripper for increased stability and body alignment and our anti-blister technology for minimum friction. 
Our crew socks are also extremely versatile. You can easily adjust the length and use them as anything from grip socks for rugby to grip socks for tennis. 
Lastly, let's talk about design. They're good-looking socks and come in a variety of colours. So, whether you want muted white socks or bright purple mid-calf grip socks, we've got an option for you.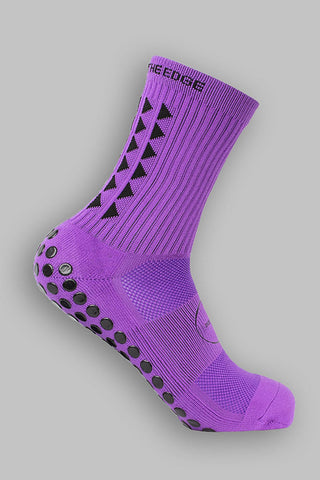 Why They're Great 
Excellent grip 

Perfect for colder weather

Snug fit that doesn't move or fold 

Breathable material 

Versatile design

Anti-blister technology 
Who They're Right for
Gymnasts who need a warmer grip sock

Gymnasts who want a versatile sock for multiple sports

Gymnasts who struggle with blisters

Gymnasts who want more colour and design options
Benefits of Using Gymnastics Grip Socks 
Let's take a look at some of the benefits of using grip socks instead of normal socks. 
Increased Grip 
There's a reason why most Olympic gymnasts wear socks. One of the biggest issues athletes face is bad grip. Normal socks tend to slide on mats and inside shoes, making it difficult to build up speed and change directions.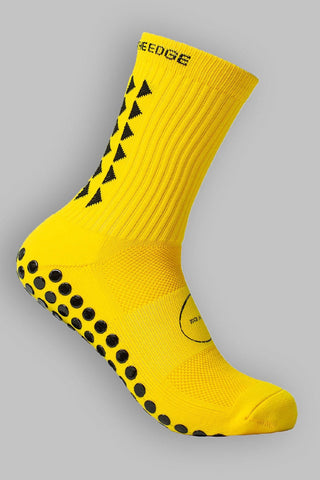 This is especially harmful to gymnasts, who need all the grip they can get when performing floor routines or tumbling on bars. 
Grip socks provide that extra grip, which allows gymnasts to perform at their best without having to waste energy trying to right their feet 24/7.
More Confidence
Practise makes perfect, but confidence is just as important. If we look at great athletes like Michael Jordan, we'll notice they're confident in their abilities. A lot of this confidence stems from having trust in their gear to perform when they need it most. 
If you're performing a routine but half your focus is on how to correct slippery feet, you won't perform at your best. 
Grip socks offer support you can trust. Now, you can use 100% of your abilities without having to worry that your equipment is going to fail you when you need it the most.
Better Performance
With increased grip and more confidence, it's only natural that your skills improve too. With the help of grip socks, you can finally work toward reaching your full potential and improving your showcase performance.
Conclusion
Gymnastic grip socks can completely change how you practise and perform, provided you buy a pair that'll benefit you. Luckily, choosing from the above socks is guaranteed to help you improve your traction and control, ultimately maximising your potential. 
For more performance-enhancing sock options, browse Gain The Edge for the best sports grip socks on the market.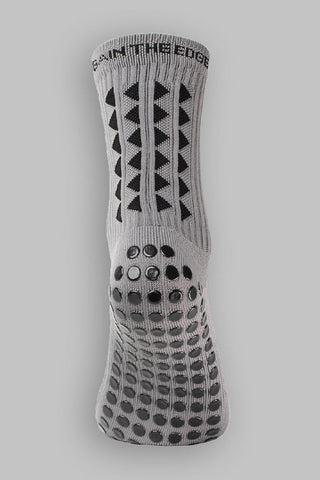 Gymnastic Grip Socks (FAQs)
Do Grip Socks Grippers Go Inside Or Outside? 
The grippers are meant to be worn on the outside, meaning they're attached to the sole of your shoe. If the sock is snug, the socks will hold your feet while the grippers grip your shoe. 
How Do You Take Care of Grip Socks?
Most grip socks are machine washable. All you need to do is turn them inside out before throwing them in the wash. This should protect the grippers from coming off. However, temperature recommendations will differ by brand. Always stick to the wash temperature recommendation of your brand.
Did our blog meet your needs? You might also find our other guides helpful: