Unlike other sports, the game of golf relies more on focus and mental clarity than it does physical prowess. Golf isn't a hugely physically taxing sport, making it great for all kinds of people. But it still requires a lot of walking, and this means you need your feet to be comfortable.  
This is where golf socks come in. Without the right socks, you won't be able to properly apply yourself on the green. Join us as we examine the best golf socks. You'll find what you need here whether you're a novice or a professional.
What this article covers:
Best Socks for Golf
In this review of the best golf socks, we looked at the best options for comfort, durability, stretch, moisture-wicking, and breathability. These are our top picks among the best grip socks for golf.
Grip Socks 2.0 Ankle-Length
What are the best athletic socks when it comes to golf? It's largely a matter of personal preference, but most golfers prefer ankle socks over other sock styles. They are comfortable to wear and ideal for warm conditions.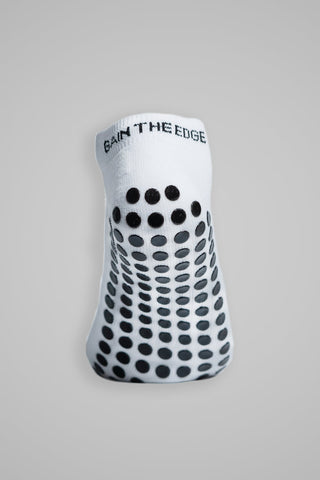 The problem with many ankle socks on the market is that they just don't adhere to the foot during long periods of wear. As you move, they can slip down the ankle into the shoe. That's a no-no for any golfer, but with the Grip Sock 2.0 Ankle-Length design, that is a thing of the past.
This modern version of the conventional ankle sock is designed to grip your foot in firm yet comfortable support. With all that walking and twisting you do in your golf shoes, regular socks show excessive wear and tear in no time. But these grippy golf socks have the right amount of durability and stretch to last. 
Why They're Great
Covers the bottom of the foot securely without slipping down into the shoe 

Grips underneath prevent slippage in the shoe

Allows breathability in the toe box

Comfortable for lots of walking
Who They're Right For
Golfers in warm climates

Players who suffer from sweaty feet

Anyone who likes the comfort of low-rise socks but needs total foot security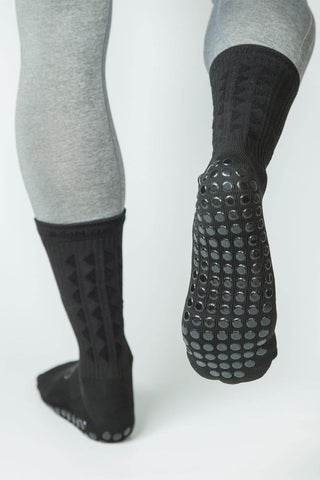 Mid-Calf Length Grip Socks
While many golfers prefer anklets, mid-calf length socks are also trendy. You may find that you like to wear both, at different times, and for different weather conditions.
Whether you play in a warm climate or a cooler one, the result is the same. You'll eventually end up with sweaty feet, distracting you from your game. No one can focus when they're walking for hours in sweaty socks. But this can be largely avoided with these Mid-Calf Length Grip Socks. 
They offer what so many other socks on the market don't - breathability. These socks are the perfect combo of elastane support and cotton comfort. They prevent slippage when your feet get hot and sweat, but offer more ankle coverage than the traditional anklet.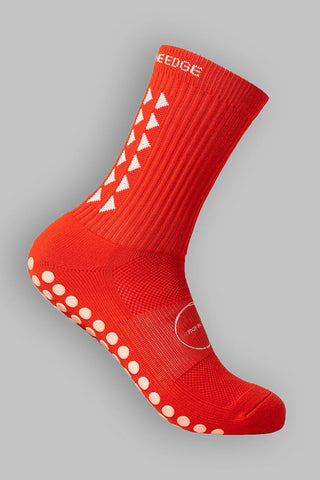 Why They're Great 
Supports foot and ankle during play

Grips shoes for easier walking

Breathable and comfortable

Offers warmth on cooler game days
Who They're Right For
Golfers in cooler climates

Players who need more ankle support

Anyone who prefers more coverage
Compression Grip Socks
Golf is very demanding on the feet and legs because you're constantly on the move. The constant walking, moving, and twisting out on the golf course can cause aches and strains. Professional and regular golfers also often complain of tired, swollen legs and vascular problems.
That's why many golfers rely on compression socks to reduce these discomforts and thereby enhance their performance. These Compression Grip Socks are the answer to all those common golfing ailments. 
They apply gentle pressure to the legs, promoting better blood flow. This prevents blood pooling in the lower legs and veins, and also reduces swelling, leaving you to move with ease and concentrate on your game.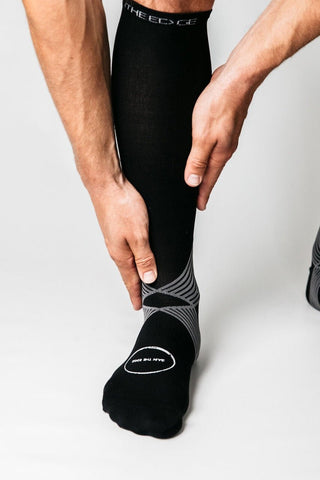 Why They're Great
Offers support to the whole lower leg

Reduces post-game aches and strains

Alleviates swelling

Boosts blood circulation 

Has the same grip function as our other golf socks 
Who They're Right For
Golfers who suffer from circulatory issues

Players who feel aches and pains in their legs post-tournament

Anyone who needs the security of ankle, calf, and knee support in one
Benefits Of Using Golf Socks
As experts in the field, we understand the benefits that the best elite socks in the world can bring to your game. So, what are the benefits of using proper socks for golf as opposed to ordinary fashion socks?
Constructed For Lots Of Movement
Regular fashion socks are usually designed for aesthetic appeal rather than practicality. Golf socks need to stand up to heavy use.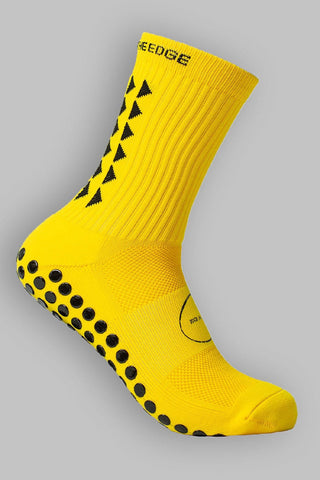 In football, your football grip socks improve the grip of your shoes on your feet. And in golf, this is also necessary. While the type of physical exertion may differ, it's still important to have a good grip. Much like gymnastics grip socks, these golf socks have the right amount of stretch you need.
Designed For Sweaty Conditions
The best socks for golf, just like the best-rated tennis socks, are ones that'll keep your toes ventilated. 
Good golf socks like these also offer a health benefit - their breathability and moisture-wicking properties make them the best socks to prevent athlete's foot.
Made To Last
Have you ever inspected a pair of your regular socks? Go ahead and take a good look at them. Turn them inside out, too, and look at the seams. How well have they stood the test of time? Sure, they may be exciting to look at, on the surface, but how strong are they?
Like the best socks for Ironman competitions, golf socks are made to last. Yet they can be just as fun and colourful as fashion wear, like our purple socks with grips. With the right golf socks, you can show your personality in socks that are durable and reliable.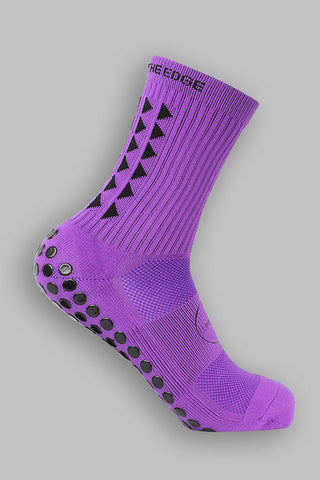 Conclusion
What's the most important consideration in the game of golf? Is it your comfort? Is it your focus or maybe your technique?  The fact is, all of these will be improved with the right gear, and that includes everything right down to the socks you wear.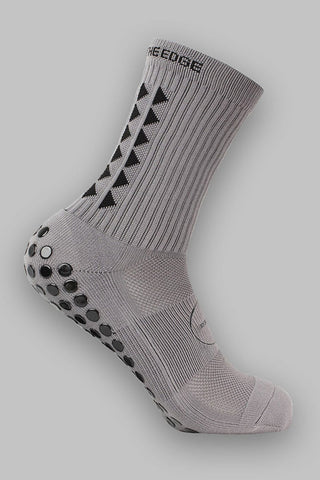 The best golf socks allow you to play your best game by providing you with the comfort, durability, and support you need. All the socks reviewed above will offer you these benefits. The ones you choose will depend on your individual needs.
So, get the best golf socks today and gain an edge over your competitors.
Did our blog meet your needs? You might also find our other guides helpful: