The list of workout options is endless, and so, it seems, are workout gear options. Exercise and sportswear items are a big business. And we understand why - it's important to be both comfortable and supported during your routine. 
But what about the smaller items of gym wear, like your socks? Too often, consumers are swayed by designer brand names instead of looking at the actual benefits of particular socks. Unlike fashion socks, good quality gym socks will do more than just keep your feet warm and cosy.
So get to grips with what the best sport and gym socks can offer you, and find out why good gym socks for women are necessary for your peak performance. You'll discover your best options in this women's gym socks review. 
What this article covers:
Best Women's Sports Socks
Ankle Grip Socks 
Since the design of the ankle sock, it has become one of the most popular sport sock styles across the board. Useful for the gym as well as a multitude of sports, women all over the world have come to rely on them. Without comfortable sports socks like these, you will end up with some painful blisters from your gym shoes. 
When your feet are comfortable, you'll have a more productive workout. And with the addition of non-slip grips, lightweight styling and superior stretch, these ankle socks are the ultimate gym socks for women on the go.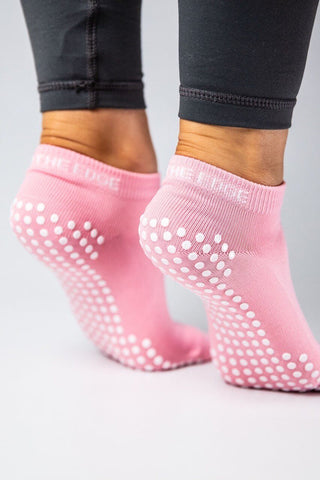 No more feet sliding in your gym shoes! Now you can keep cool even in the summer and not have to worry about slipping and sliding. 
They look great too. With a pair of these ankle grip socks, you'll perform at your best without sacrificing that feminine touch. These cotton/elastic socks feel as soft and luxurious as they look. They're available in soft pink with white grips as well as classic white with black grips, and black with white grips.
Why They're Great
Superior performance with classic two-tone styling

The ankle length you love that stays put without slipping down into the shoe

Durable and strong yet soft and comfortable

Versatile -can be used across multiple sports and gym routines 

Great for warmer weather 
Who They're Right For 
Gymnasts

Yoga and Pilates devotees

Anyone who loves a high-performance sock with low-rise styling
Mid-Calf Length Grippy Socks 
Mid-calf length socks are the sock style of choice across many sporting disciplines. They offer more comfort, warmth, and support than ankle socks, but are still lightweight enough for summer use. They also offer superb stretch thanks to the addition of elastane fibres.
You may be tempted to introduce some colour and style with fashionable socks. But you'll miss out on the benefits good gym socks for women can give you. You don't have to choose between the two. These grippy mid-calf sports socks give you the best of both worlds - performance and style.
Fancy a pair of mid-calf length sports socks in a hue other than the traditional black or white? You don't have to wear regular fashion socks to get the look you want. These women's gym socks are available in all sorts of fun colours - even purple!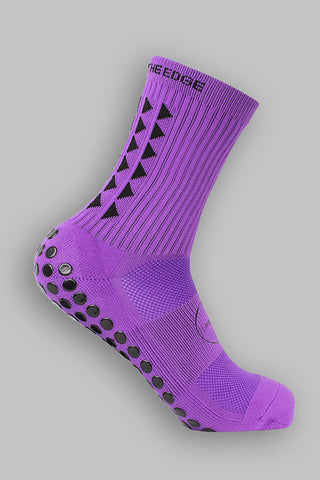 Regular socks don't give you the support and confidence in your sport that these fashion-forward mid-calf grippy socks do. This sock is uncompromising in its delivery of quality. Women golfers, hikers and gym goers rely on its softness and stretch to get them through all the walking, twisting and turning they do. 
Yet despite the soft cushioning you'll enjoy between your feet and trainers, your toes stay cool and ventilated. This combination of a lightweight airy elastic texture with cotton's breathability and softness will motivate you to give your all on the gym floor. 
Why They're Great
They offer all the benefits of top-quality sports socks in a fun, colourful design

More ankle support than the traditional ankle sock yet still lightweight and comfortable

This two-tone purple sock with black detailing and grips is also available in a wide array of other fun hues for your every mood.

 
Who They're Right For 
Golfers, hikers, and anyone who does a lot of walking in their sport

Everyone who loves a little colour in their day

Female athletes are tired of the usual black-and-white sport sock options

Female athletes and sportswomen who prefer the extra coverage that mid-calf length socks provide

Anyone who's a fan of purple!
Full-Length Grip Socks
Another fun and fashionable colour meets practicality and support. These full-length sports socks with grips have all the benefits of conventional over-knee sports socks loved by netball, softball, and women's volleyball players the world over. 
They're warm yet breathable. They're stretchy yet supportive. They also give excellent leg coverage without feeling tight or restrictive. And, of course, the grips underneath will give you the security and confidence you need in our active sport.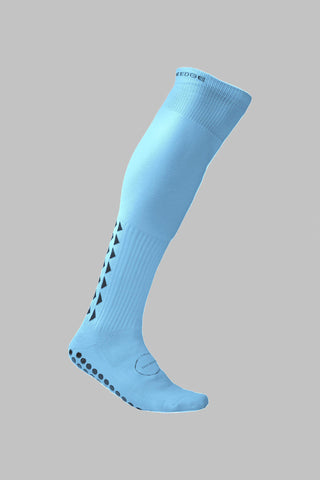 The attractive colour choices add a touch of style, too. If blue is not the hue for you, choose from a selection of other bold colours or stick with the classic black and white options. Because in women's gym socks, you can have style as well as function.
Why They're Great 
Colourful and fun design

Extra coverage of the entire lower leg

Offers ankle, calf, and knee support

Suitable for a wide variety of winter sports
Who They're Right For
Volleyball, softball, netball and hockey players

Anyone who prefers more coverage and support

Women who need the comfort of a traditional full-length sock with the security of grips
Ankle Support Toeless Socks
While some people prefer to work out without socks, and sometimes even without shoes, this is not always practical or advisable. If you need ankle support good gym socks for women can give, but want your toes free, these ankle support socks are the ones for you.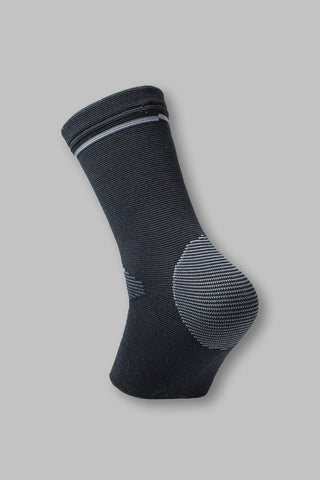 They offer the support of the best ankle sports socks but with the freedom to move your toes. Do you participate in yoga, pilates, or gymnastics? You may prefer the feel of a bare foot. But this isn't always a good idea, as you'll have no ankle support. That's why so many women rely on these ankle supports. 
Equally at home in the gym studio, ankle support socks allow for ease of movement, with the benefit of ankle support. Their non-slip texture also makes it easy to remain steady in your gym routine without fear of slipping.
Why They're Great
Ankle support and stability

The superior stretch where you need it without compromising comfort

Keeps toes free for pilates, yoga and gymnastics

Strong and durable

Classic design to complement all sportswear
Who They're Right For 
Gymnasts

Pilates and yoga practitioners

Gym coaches
Benefits of Using Gym Socks for Women
Grip 
No matter the length or style, socks with grippers on the bottom have one thing in common. They allow your foot to have a better grip on the sports shoes you're wearing. This is more important than you realize. It gives you greater stability during sports and also a gym workout.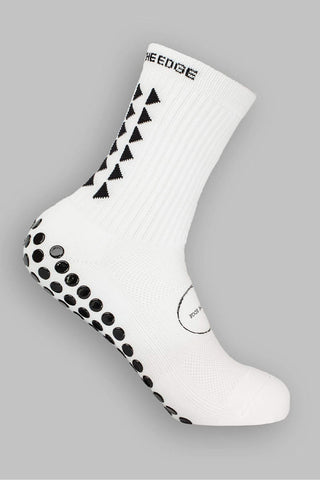 Grippy ankle socks are one of the most popular choices as grippy yoga socks and even non-slip socks for pilates. If you're a gymnast, you may be familiar with barefoot routines too, but they can be demanding on the feet. A  pair of gymnastic grip socks will give you confidence and stability on the bar.
Comfort 
Of course, comfort is of great importance. That's why our grippy socks are widely regarded as the best socks for golf. With all that walking, you want the cushioning and comfort that good sports socks provide. 
But it's just as important in other sports. A good pair of the best sports socks for women will keep your mind off of your feet and on your gym routine.
Safety 
Can training socks for women make a difference to your safety? They sure can. Sweaty feet are a reality that every sportswoman has to face. Aside from being uncomfortable and distracting, sweaty feet can also cause your toes to slip inside your shoes. 
This will not only distract you from giving your best, but it can also cause you to lose your footing and get injured. Therefore, those anti-slip blue socks for football are an investment in your safety. The best sports socks for women keep you safer on the field, track, or court as well as in the gym studio.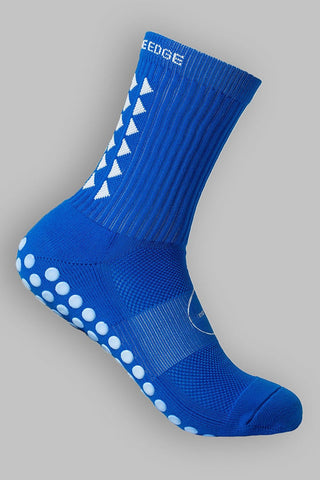 Protection 
Have you ever arrived at the gym without a pair of sports socks in your gym bag, and decided to make do without them? We're willing to bet you regret your decision pretty quickly. 
Sports socks are crucial for arch and ankle support, as well as preventing chafing against sports shoes. That is why our supportive sports socks for women are also regarded as the best socks for tennis. 
Health
That pair of black grip socks for soccer may be one of the best decisions you've made for your health. That's because without the right sports socks, sweaty feet become sweaty socks, and thus a breeding ground for bacteria and fungus.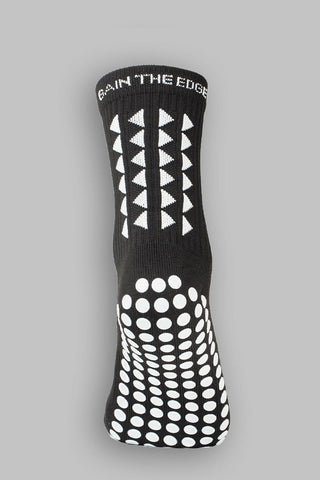 Athlete's Foot is one of the most common results of that issue, and it's a condition you want to try and avoid. This condition is rife in the sporting community as it thrives in warm, wet conditions. And that's exactly what your socks will feel like after a game if you don't wear the right women's sports socks. 
Good sports socks have better breathability and moisture-wicking properties, keeping your feet cool and dry. The ones mentioned above are also popular Athlete's Foot socks for this reason. Choosing the best women's gym socks is a step in the right direction for your health.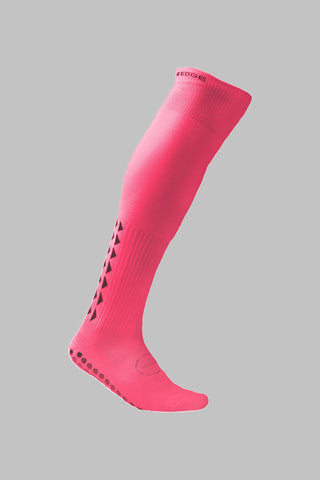 Conclusion
It's not difficult to find trendy gym socks for women. Women's sports socks are available in different colours and styles, and many designer sports brands have a wide selection. Unfortunately, they often focus on fashion more than on performance. 
Because we understand that both are important to you, we give you both. Get your women's sports socks today and gain the edge over the competition.
Did our blog meet your needs? You might also find our other guides helpful: